Gas prices: Europe's energy crisis
Energy prices have surged across Europe as Russia drastically reduced gas supplies.  
The gas supply issue is in response to sanctions over Russia's invasion of Ukraine. All this amid rampant inflation and surging gas prices.  The crisis has created volatility in the market, which for savvy traders is a good thing.  
Become a better trader – Join our webinars      
Today, we take a look at the energy crisis in Europe and share valuable advice for all traders.  
EU to tackle the energy crisis  
The European Commission (EC) released a series of proposals intended to curb the energy price hikes that have rocked Europe.   
Gas prices have risen more than 10 times compared to prices before the COVID-19 pandemic in 2020.  
One of the major proposals would be to move excess revenues from Europe's non-gas power plants to assist businesses and retail consumers instead.  
Wind-power businesses, solar farms, and nuclear plants could face a revenue cap of $180 per megawatt-hour (MWh) for generating electricity.  
Don't miss out – Get Daily Trading Signals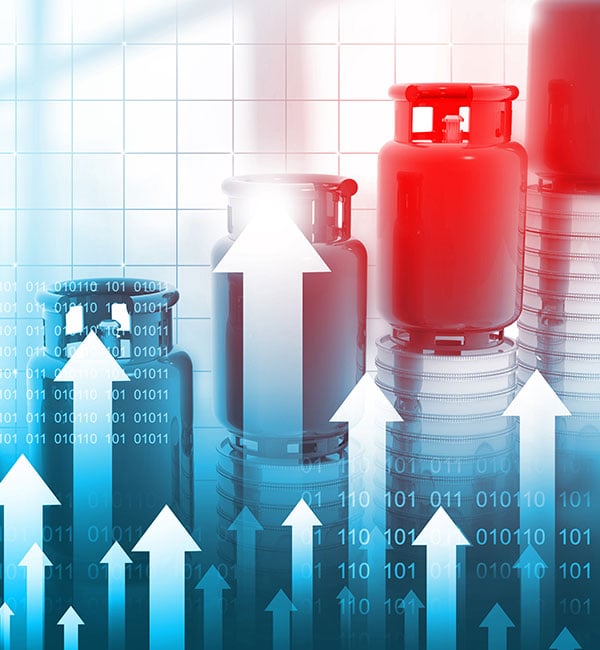 The move would cap energy generators' revenues at less than half of their current market prices. Germany's electricity price hit a record high of more than 1,000 euros/MWh in August 2022 though is trading at below 500 euros/MWh by September 14.  
The EV has also proposed that fossil fuel businesses and suppliers could face a "windfall levy" to help retrieve profits from soaring oil and gas prices.  
The draft proposal states that oil, gas, coal, and refining firms are required to contribute "33% of their taxable surplus profits from the fiscal year 2022".  
These radical proposals are already rocking a volatile market.  
Future for EU – no more Russian gas?
The EC said it is planning a major overhaul of its electricity market to curb future energy volatility and reduce the risk of soaring prices.  
Future proposals include going fully green through renewable energy, eliminating the EU's reliance on Russian-provided energy, and better regulation of the energy market.  
EU countries will have to negotiate and agree on final proposals set to be finalised by September 30.  
Here's how to trade during the energy crisis:
Fred Razak, CMTrading's Senior Trading Specialist, shares valuable trading advice: 
Q: Why is Europe facing an energy crisis?   
Razak said: "Russia has choked off Europe from their major natural gas supply. Europeans require natural gas to heat their homes for factories to work and businesses to run. If there's no electricity, there's no production and that creates a very serious situation.
So that's adding pressure to the Euro right now and will be a serious problem as the continent heads into winter. So that's why there's an energy crisis in Europe.
It's really by Russia choking off the natural gas to Europe by shutting down the German gas pipeline. The pipeline is a major artery for gas going into Europe.   
"Germany is the largest country in the European Union and the most productive. It's also the largest consumer of energy in the EU. Germany must meet its energy needs as many member states rely on its productivity.   
Q: So, moving forward, how will this affect the EU economy?   
Razak said: "There has to be consistency in terms of the energy flow for any country to be productive. I mean you can look at South Africa and see how damaging irregular energy flow can be to the production and the maintenance of a country.   
"Shops can't service their clients. Homes aren't heated. Business can't operate – the entire A to Z of running a country is affected. Energy is the Achilles heel of a country's economy. Not being able to deliver energy consistently destroys the mechanisms that keep a country healthy."  
Q: How can traders take advantage of this volatility?   
Razak said: "Well, volatility is your friend as a trader, and you want to be in a situation where you're able to trade the financial markets in volatile situations. Now, natural gas is trading at $7.86 though it was trading as high as $9.95, that is huge. The spike is reminiscent of the oil price hike experienced from February to March 2022.  
"This is just a very severe situation for the world to be in because we are so dependent on natural gas for electricity. So traders love this volatility as it gives them a lot of opportunities to make money in this type of environment. So there are ways to invest and capitalise on this.
The major manufacturers of the European Union will be affected by the crisis. The major auto manufacturers, Siemens, Bosch every major European producer of goods will be affected.
Consumer goods from manufacturing companies in Europe will be affected by this for sure. So, this is a very important sector that is being affected and will have a knock-on effect on major market sectors.   
"Traders can look to any sector in the European market and abroad in the coming months for opportunities. Expect price hikes across the board or in some cases huge dips as demand for certain goods will drop due to production issues."   
Q: Advice for a client for traders in the energy sectors?   
Razak said: "There are lots of opportunities to keep your eye on and explore in the markets. You know, the trend is your friend. Just be careful, you know, not to let your losses, get ahead of account.
Just realise that the markets can turn at any given time, so trade responsibly."    
 Want expert trading tips?  
CMTrading offers all the latest trading tips, news, and information in real time. Simply sign-up for an account and access your trading dashboard. What's more, it's completely FREE!  
 Gain access to the following powerful features:  
Trending stocks 

 

Analyst ratings 

 

Insider activity 

 

TipRanks smart score 

 
What's more, it's completely FREE!  
Ready to start trading? Open an account today        
Join CMTrading, the largest and best-performing broker in Africa, and discover more opportunities with an award-winning broker. Register here to get started            
Follow CMTrading on Facebook, Instagram, LinkedIn, Twitter, and YouTube