Ethereum merge: Trade crypto's biggest transformation
Ethereum will merge with the Beacon Chain 

 

End of proof-of-work to a proof-of-stake system 

 

Future scaling upgrades including sharding. 

 

Ether's energy consumption to be reduced by 99.95% 

 
If you've been searching for an opportunity to trade crypto, this is it; Ethereum (ETH, Ether), the world's second-largest cryptocurrency, will upgrade its blockchain network from its "Proof-of-Work" system to a "Proof-of-Stake" version in September 2022.  
The Merge, as it has been called, could be one of the biggest transformations in the history of cryptocurrency. The blockchain will undergo a major software upgrade that will drastically reduce the energy needed to create new digital tokens and conduct transactions.  
Become a better trader – Join our webinars      
Today, we look at the upcoming merge and share valuable information for all crypto traders.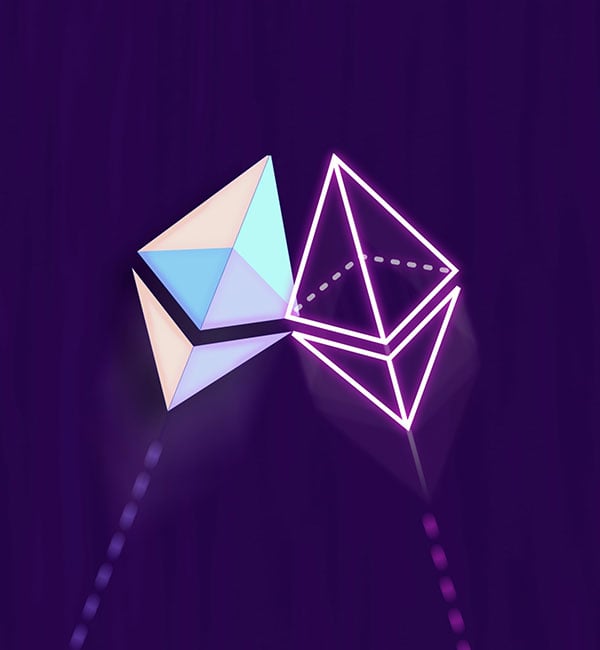 What is The Merge?  
The Merge is the most significant upgrade in the history of Ethereum which began early on September 6.   
The upgrade is part of Ether's long-awaited migration from its current "Proof-of-Work" system to a "Proof-of-Stake" system. Incredibly, the Merge will reduce Ethereum's energy consumption by 99.95%.  
Developers of Ether believe it to be a "game changer" for the blockchain network and many crypto platforms are eager to see its performance in action.  
According to Ethereum: "The Merge represents the joining of the existing execution layer of Ethereum (the Mainnet we use today) with its new proof-of-stake consensus layer, the Beacon Chain. It eliminates the need for energy-intensive mining and instead secures the network using staked ETH. A truly exciting step in realizing the Ethereum vision – more scalability, security, and sustainability."  
Don't miss out – Get Daily Trading Signals   
When is it happening?  
There will be two stages for Ethereum merge to be made public in the crypto market; the first stage, Bellatrix (September 6), and the final stage, Paris, from September 10 to 20.  
Major crypto exchanges, such as Coinbase Global (COIN.O) and Binance, are pausing Ether deposits and withdrawals during the merger. Traders won't need to change anything with their digital wallets as part of the upgrade, crypto platforms claim.  
Why upgrade Ether?  
The Ethereum blockchain is due to merge with a separate blockchain, known as "proof-of-stake". Developers claim it will radically change the way the network processes transactions and how new ether tokens are produced.  
Most blockchains, including Bitcoin, the world's biggest cryptocurrency, consume large amounts of energy. As crypto becomes more popular, huge servers and bigger crypto mining centres are being created, consuming ever-increasing amounts of energy. Overall, this has sparked major criticism from investors and environmentalists as historically crypto has not been very "green friendly".   
High costs and slow transaction times are, according to developers, two of the primary issues crypto traders have with the Ethereum network.  
The upgrade could pave the way for further blockchain updates, resulting in cheaper transactions.  
A big moment for Ether  
Crypto experts believe the Merge could be a major milestone for the $1 trillion crypto sector led by the giant Bitcoin.  
Ether's developers say the upgrade could make Ethereum much more favourable compared to rival Bitcoin in terms of "price and usability".  
It's hoped that Ether applications will become more widely used soon.  
Since June 2022, the price of Ether has gained more than 50% compared to a slight loss for Bitcoin.  
How does it work?  
You might not realise it as crypto exists in a virtual world but simply verifying and mining digital tokens consumes a lot of energy.  
 There are different ways transactions on a blockchain are verified; In its current "proof-of-work" system, new transactions are checked by Ethereum crypto miners.  
Miners use computers to solve complex mathematical puzzles and update the blockchain. This earns them new crypto tokens. While this makes records on the blockchain secure, it's overall highly energy-intensive due to the powerful hardware necessary for mining.  
In its new "proof-of-stake" system, Ether owners will lock up set amounts of tokens to check new records on the blockchain. This allows miners to earn new coins on top of their "staked" crypto.  
What happens after The Merge?  
Beacon Chain will take over the process of validating new transactions through Proof-of-Stake and Ethereum's legacy Proof-of-Work model will be shelved permanently. The beacon chain will be integrated with sharded chains as part of this upgrade, making the Ethereum network faster and more energy efficient.  
According to Ethereum: "This will signal the end of proof-of-work for Ethereum and start the era of a more sustainable, eco-friendly Ethereum. Learn more about Ethereum energy consumption.  
This will also set the stage for further scalability upgrades not possible under proof-of-work, bringing Ethereum one step closer to achieving the full scale, security, and sustainability outlined in its Ethereum vision."  
Should you buy crypto right now?  
 As we head into the final months of 2022, the cryptocurrency market may not look very inviting. After soaring past $3 trillion in 2021, its market value has dropped to less than $1 trillion by September. Bitcoin has seen its biggest decline in years, losing more than 50%, dipping below $21 000. 
Crypto, like many other sectors, is struggling against a backdrop of rising inflation, high-interest rates and generally bearing economic sentiment. This has resulted in many investors fleeing risky investments such as crypto.  
However, not only does cryptocurrency still see high volatility, but its prices also look incredibly tempting at these levels – two factors that should be very appealing for traders.  
Sure, the market might not be very supportive of cryptocurrency and traders shouldn't expect immediate, explosive gains – for now.  
Instead, many crypto analysts are looking to see how specific cryptocurrencies will perform once the economy has improved. Economic slowdowns and high-interest rates will occur but they're cyclical and don't last forever.  
The comparatively low price of cryptocurrency makes it that much more attainable for traders. Even more appealing is crypto's adoption by major banks and firms for transactions.  
 Ethereum's upcoming upgrade could be the major boost the crypto market needs. Overall, if you are comfortable with some risk, crypto remains an exciting market to trade.  
 Ready to start trading? Open an account today        
Join CMTrading, the largest and best-performing broker in Africa, and discover more opportunities with an award-winning broker. Register here to get started            
Follow CMTrading on Facebook, Instagram, LinkedIn, Twitter, and YouTube