Earnings season: Should you buy Meta stock? 
Few events get traders as excited as the quarterly earnings season. The Q3 earnings reports from companies are already lifting markets and already we've seen some major players such as Netflix, Google, and Microsoft release earnings.   
These company earnings are creating an otherwise bearish market.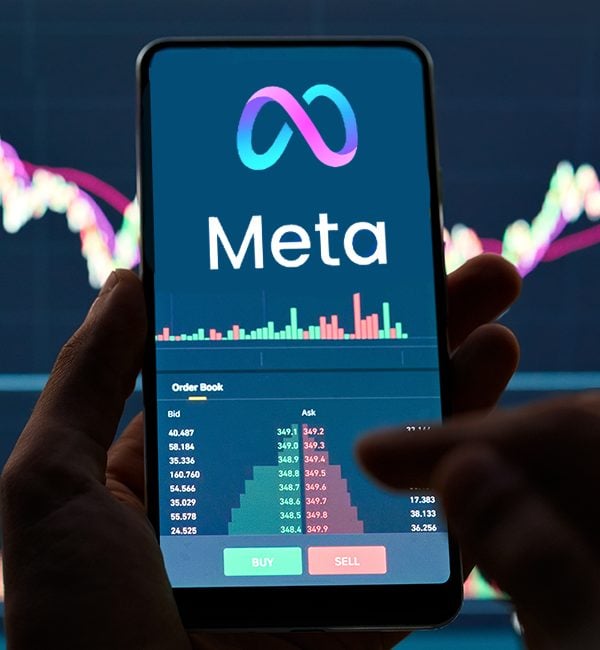 Unfortunately, the markets have been tough on consumers, and not every company will meet its targets, as was the case with Tesla Motors earlier in October.   
This week some of the world's biggest tech companies are releasing their third-quarter earnings including Meta (Facebook), Apple, and Amazon.   
8 top stocks you shouldn't miss   
Today, we look at the grandfather of social media platforms, Facebook, to find out whether the stock is a buy, sell or hold?  
Times have changed in social media  
Facebook-parent Meta Platforms will report earnings late on October 26, and sadly, it seems Wall Street is bracing for the worst.  
It has been a terrible year for investors and trader's in the social network giant's shares; Meta is down 62% since December 2021 and continues to face fundamental challenges in 2022.  
During 2020, Facebook soared in popularity as billions were forced to stay at home due to pandemic-induced lockdowns. Social media was one of the only ways people could communicate and stay in touch with the rest of the world. Facebook reaped the benefits of this changing landscape.  
In 2022, Meta stock is being battered by a combination of increased competition from rivals such as TikTok, the fallout from Apple's (AAPL) strict privacy standards, the lack of pre-2020 digital advertising revenue, and confusion around the metaverse.  
It remains one of the world's biggest companies and perhaps its cheaper price will attract more traders to Meta.  
Treat your trading like a business 
Meta by the numbers  
Meta has projected revenue for Q3 of $26 – $28.5 billion. Estimates believe it could report $27.5 billion, which would be a decrease of 5% compared to a year ago. Analysts on average project a profit of $1.90 a share, down from $3.22 a share in Q3 2021.  
Meta Platforms YTD 
So, is it worth trading Meta? Here's what CMTrading analysis shows:  
Analyst consensus: Buy    
Forecast: $27.57 billion    
Earnings Per Share: $1.93    
Market cap: $369.56 billion     
The average price target is $199.91 with a high forecast of $275.00 and a low forecast of $140.00.  
The average price target represents a 45.59% Increase from the last price of $137.31.  
Based on 33 analysts offering 12-month price targets for FACEBOOK in the last 3 months  
News sentiment:   
Analyst consensus: Negative   
Based on a formula that combines this week's News Sentiment and Media Buzz   
 Become a better trader – Join our webinars        
Big challenges faced by Meta  
The entire tech sector suffered a mass selloff earlier in 2022 yet Meta has fallen more than most of its peers. A drop of more than 62% is huge, by comparison, the S&P 500 is only down 21% since January 2022.  
The company is however during a huge change, a challenge for any company to deal with but even more so for the world's biggest social media platform.  
In 2021, Facebook became part of Meta Platforms, a bid to change negative perceptions of the brand. At the same time CEO Mark Zuckerberg announced his major Metaverse project – a virtual environment for social and professional interactions.  
One of the biggest disrupters to Meta's business model is Apple stealing its slice of the digital marketing pie.   
Apple taking a bigger slice of the market   
Meta traditionally makes its money by selling advertising space. This business model has enabled Facebook to generate billions. The advent of the 2020 pandemic saw online advertising all but dry up for platforms reliant on this form of revenue. One of Facebook's major selling points is that it can target specific audiences with relevant advertising.  
Apple has made moves to stop companies from collecting user data, which is what makes this form of targeted advertising possible. Privacy changes on Apple devices challenge Meta's core offering to advertisers; If Facebook can't target audiences, it's less attractive to advertisers.  
Apple only accounts for about 23% of the global smartphone market, meaning that Android and other devices are still viable for Facebook's targeted advertising.  
Still the world's biggest social platform  
Despite its revenue issues, Meta remains a titan of social media; according to its latest report, Meta has 2.88 billion daily active users across all its platforms. That's a staggering number of users and remains significantly higher than any of its competitors which includes Twitter and Tiktok.  
Enter the Metaverse  
In addition to pressure from a lack of advertising, the company is also heavily focused on launching its metaverse platform. Significant investment is being poured into its virtual social playground.  
This investment will cut into the company's overall profitability, at least until the metaverse can prove its viability.  
Bleak week so far for big tech 
Nasdaq futures dropped more than 1% on Oct 25, after disappointing results from technology titans Microsoft and Alphabet. The pair reported poor Q3 earnings highlighting losses in other mega cap companies and raising fears of slowing economic growth. 
Microsoft posted its lowest sales growth in five years with revenue below Wall Street estimates. Google-parent Alphabet highlighted the negative effects of a lack of online advertising spending. 
Shares of both companies dropped; Microsoft dropped 5.7% and Google decreased by 6.0%. The poor reports of Google and Micrsoft is having a negative effect on other major companies. Amazon and Apple, set to release earnings on Oct 27, fell 3.7% and 0.6% respectively. 
More company earnings are on the way    
The October earnings season is in full swing and many of the world's biggest companies are reporting their results.   
Already, these stocks are causing market volatility, creating trading opportunities you can't afford to miss.  
Check out the list below for some of the top stocks you shouldn't miss.   
Full list of upcoming top stocks: Forecast and market cap  
Wednesday, October 26, 2022    
Microsoft (MSFT) $49.86B / $1.75T            
Meta Platforms (META) $27.58B / $358.65B           
Thursday, October 27, 2022    
Apple (AAPL) $88.73B / $2.25T                
Amazon.com (AMZN) $127.76B / $1.17T    
Ready to start trading? Open an account today       
Join CMTrading, the largest and best-performing broker in Africa, and discover more opportunities with an award-winning broker. Register here to get started         
Follow CMTrading on Facebook, Instagram, LinkedIn, Twitter, and YouTube