Tesla misses target, share price could drop
Earnings season Q3 is in full swing and already we've seen a major hit in the form of Netflix shares soaring. Unfortunately, not every company will meet its targets, as was the case with Tesla Motors.  
On October 19, Tesla released its third-quarter earnings and while sales were high the company failed to meet Wall Street expectations regarding revenue.  
8 top stocks you shouldn't miss 
Today, we look at Tesla in the markets and find out whether its stock is a buy, sell or hold?  
Tesla earnings by the money  
Tesla reported third-quarter earnings and CEO Elon Musk addressed macroeconomic concerns as well as his pending takeover of social media platform Twitter.  
 Its shares fell by 5% after following its earnings results.  
Tesla Q3 2022 results:  
Revenue: $21.45 billion vs $21.96 billion expected  
Earnings: $1.05 vs 99 cents per share expected  
Net income for Q3 reached $3.33 billion. During the same period in 2021, Tesla reported $1.62 billion in profits. Revenue for the third quarter was $21.45 billion, a record for the company but fell short of analysts' estimates of $21.96 billion.  
The company said it is experiencing the negative foreign exchange (Forex) impact of $250 million on its earnings as the US dollar continues to gain strength against major currency rivals.  
The company said in a press release: "Historically, our delivery volumes have skewed towards the end of each quarter due to regional batch building of cars. As our production volumes continue to grow, it is becoming increasingly challenging to secure vehicle transportation capacity at a reasonable cost during these peak logistics weeks. In Q3, we began transitioning to a more even regional mix of vehicle builds each week, which led to an increase in cars in transit at the end of the quarter. These cars have been ordered and will be delivered to customers upon arrival at their destination."  
  Don't miss out – Get Daily Trading Signals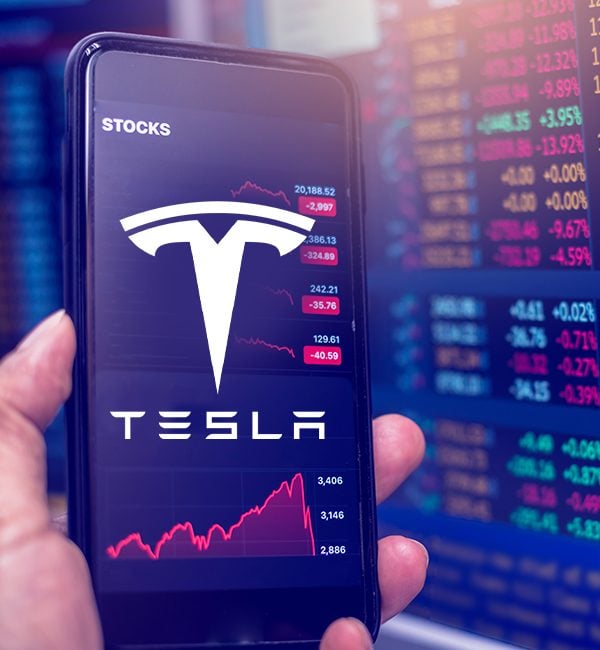 Missed delivery targets  
Like many automakers, Tesla has been at the mercy of a poor global economy. Inflation is diminishing consumer spending and high-interest rates are pushing away investors while raising the costs of imports/exports.  
Tesla said it expects to miss its vehicle delivery targets for 2022 based on a poor global economy and was quick to highlight its reduced deliveries had nothing to do with a low appetite for its vehicles.  
Musk told analysts there has already been an excellent demand for the fourth quarter but stated that logistical challenges would persist. He added that fourth-quarter deliveries grew by less than 50% while production rose 50%.  
Musk said: "I wouldn't say we're recession-proof, but it's certainly recession resilient."   
Stay up to date on the latest market news 
Earlier in 2022, Tesla set a target of 50% growth for the year from the 936,172 cars it delivered in 2021.  
Despite economic concerns, Tesla remains a fast-growing company with a valuation that far exceeds even the world's biggest carmakers, Toyota and Volkswagen. Investors are closely watching for signs that consumer demand is cooling on the world's no.1 seller of electric vehicles.  
Earlier in October, Tesla said it delivered 35% more vehicles from July to September than in the previous quarter. This is due to increased output from China after lengthy COVID-19 disruptions.  
Is Tesla a buy?    
Tesla is a company that has gone from strength to strength. Not only is it the world's number 1 electric carmaker, it's also one of the world's most highly valued companies.  Despite missing its target Tesla remains a popular company and a sought-after investment. 
Here's what CMTrading analysts have to say:   
Analyst consensus – Buy  
Based on 30 analysts offering 12-month price targets for TSLA in the last 3 months.  
Analyst price target: $323.14  
The average price target is $323.14 with a high forecast of $760.00 and a low forecast of $141.33  
The average price target represents a 45.60% Increase from the last price of $221.94  
 Become a better trader – Join our webinars      
Bizarre Twitter deal sours Tesla's appeal 
Tesla has seen its shares crash by about 50% from record highs seen in November. The share tumble is due in part to the global economic slowdown and Musk's botched bid to purchase Twitter.  
Musk initially expressed his intention to purchase the social media giant but since soured on the proposal. This led to Twitter taking legal action and a judge ordered Musk to complete the deal or go to trial.   
Naturally, this had a negative effect on both Twitter's shares and Tesla's by association.  
 Treat your trading like a business 
Could Tesla be the most valuable company in the world?  
One key area of growth will be Tesla's new electric truck division. Musk stated that Tesla's Semi trucks are set to be delivered to customers in December 2022. The Tesla's Cybertruck pick-up is also set to enter production later in 2023.  
During a conference call with investors on October 19, Musk said optimistically that Tesla could be worth more than two of the world's most valuable companies – Apple Inc (AAPL.O) and Saudi Aramco. Tesla's market cap is shy of $700 billion, while Apple is worth $2.3 trillion and oil producer Saudi Aramco is currently worth $2.1 trillion.  
 More company earnings are on the way  
The October earnings season is in full swing and many of the world's biggest companies will report their results, creating major trading opportunities. Check out the list below for some of the top stocks you shouldn't miss. 
Full list of top stocks: Q3 earnings release   
Tuesday, October 25, 2022   
Alphabet A (GOOGL) 71.34B / 1.29T               
Twitter Inc (TWTR) 1.29B / 37.58B   
Wednesday, October 26, 2022   
Microsoft (MSFT) 49.86B / 1.75T           
Meta Platforms (META) 27.58B / 358.65B          
Thursday, October 27, 2022   
Apple (AAPL) 88.73B / 2.25T               
Amazon.com (AMZN) 127.76B / 1.17T   
Ready to start trading? Open an account today      
Join CMTrading, the largest and best-performing broker in Africa, and discover more opportunities with an award-winning broker. Register here to get started        
Follow CMTrading on Facebook, Instagram, LinkedIn, Twitter, and YouTube