Dricus Du Plessis – My incredible journey with CMTrading
Welcome to my first CMTrading blog post!  
Introduction 
For those out there who don't know me, my name is *Dricus "Stillknocks" Du Plessis – a South African EFC champion and currently the 5th highest-ranked African fighter competing in the UFC.  
Outside of the ring, I've stepped into the financial arena as an online trader with CMTrading.  
I thought it would be a cool idea to highlight and document each month what I have learned on my journey to becoming a competent online trader.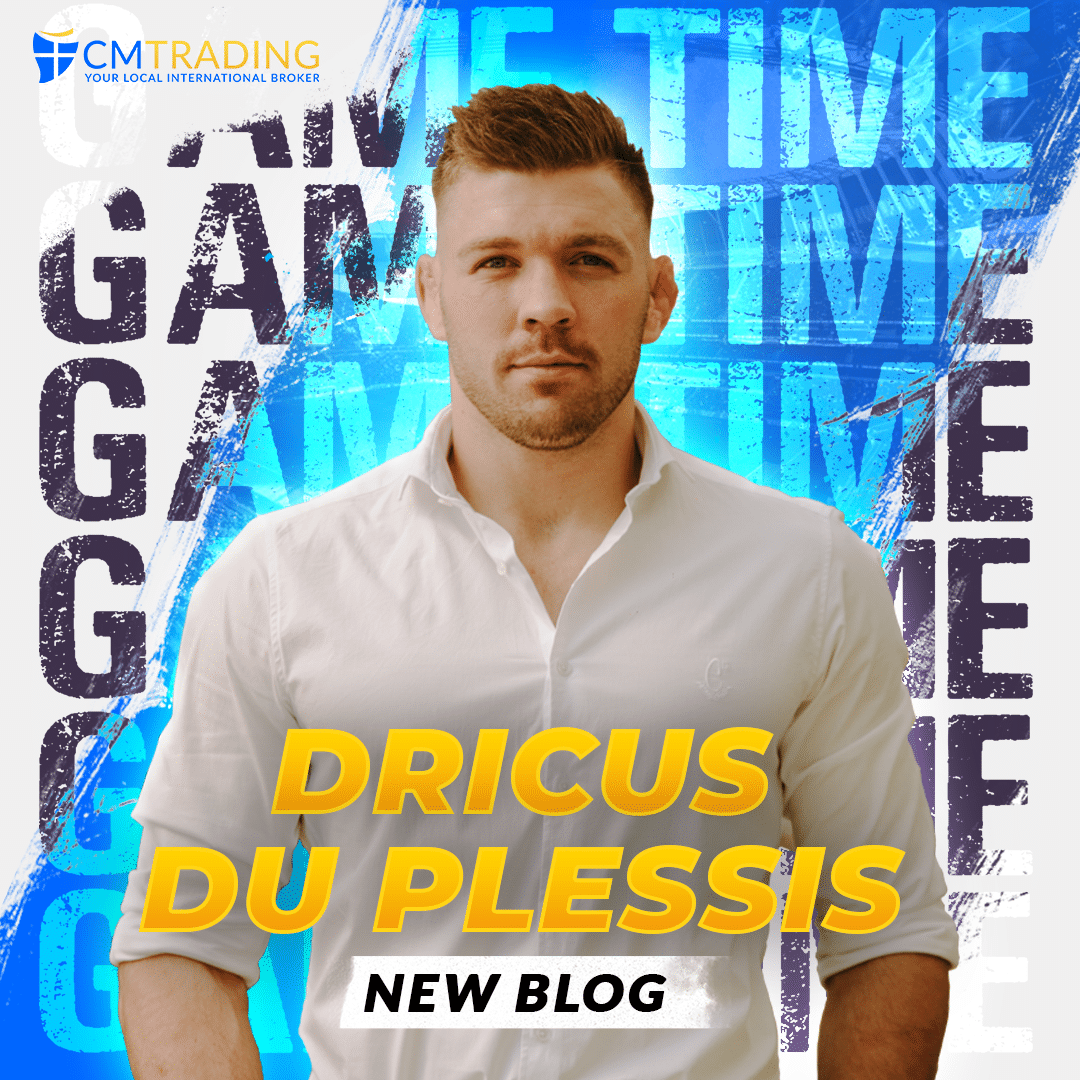 Anyone can learn to trade 
I really want to highlight to my followers and anyone new to trading that anyone can learn to trade and potentially set up a lucrative passive income stream for the future.  
I am a normal person starting with zero experience. Let's take the journey together!   
As you know, CMTrading has been a partner of mine since the start of my career, and both the company and I have reached massive heights and accomplished so many milestones along the way!   
During our time together, I became the EFC (Africa) Champion, The KSW (European) Champion, and most recently entered the top 5 in the world with the UFC.   
Award-winning broker  
CMTrading has equally scooped up so many awards over the past few years, most recently taking home ten industry awards in 2023.   
These include Fastest Growing Broker in Nigeria, Best Performing Broker in South Africa, Best Partner Program in GCC and Most Innovative Broker in GCC & Africa.   
Trade & thrive – CMTrading scoops 10 industry awards so far in 2023! 
It really is crucial for me to partner with the best, and CMTrading has proven time and time again that they are the biggest, best, and most trusted broker in Africa.   
This month I will share some tips with you guys on what I do to upskill myself and ensure that I am learning from the best.  
3 easy ways to get into online trading 
Here are three simple steps you can implement right away:   
Be sure to follow CMTrading on both Facebook and Instagram. 
I make sure to watch the Motivational Monday and Technical Tuesday videos each week.  
These are great and come with some amazing knowledge nuggets from Fred Razak, CMTrading's Senior Trading Strategist.    
Listen to CMTtrading's podcast  
CMTrading's very own podcast called Keeping Up with Trends is another go-to for me.  
Again, Fred is here to deliver fantastic knowledge and tips to the audience.   
I enjoy listening to the show during my training sessions.   
Website Resources 
Lastly, www.cmtrading.com has an entire education section where you can watch training videos, attend webinars and live seminars, and even download ebooks for FREE.  
There really is everything you need at your fingertips to start your trading journey!   
Next month we will discuss how to get started with CMTrading, how to open an account, deposit, copy-trade, learn from other traders, and perform your first trade. In the meantime, check out my page on CMTrading.     
Let's win together, 
Dricus du Plessis 
*EFC champion & CMTrading's brand ambassador 
__________________________________________________________________________________
Ready to start trading? 
Special offer 
Take advantage of market movements with our special April offer and start trading today!  
How to get your bonus:    
1 Deposit $250 – get a 100% back  
2 Use promo code CMT250 
3 Trade with our bonus 
T&C Apply | Min. deposit $250 | Max reward $250 | New clients | Promo code: CMT250 
Ready to start trading? Open an account today        
Join CMTrading, the largest and best-performing broker in Africa, and discover more opportunities with an award-winning broker. Register here to get started            
Follow us on Facebook, Instagram, LinkedIn, Twitter, and YouTube 
More from CMTrading: 
Trade & thrive – CMTrading scoops 10 industry awards so far in 2023! 
For the love of Football: CMTrading gets in the game   
UAE's tech IPOs worth billions in 2023 
How ChatGPT and AI will affect traders 
World's most expensive fuel prices