Bitcoin 
bounces back: 
Is buying the dip worth the risk?
Bitcoin has recovered some of its losses following its fall from a record high of $65,000. Considering the crypto king's astonishing performance in 2021, should you "buy the dip"?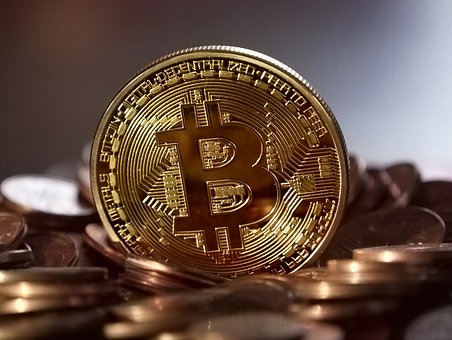 Bitcoin prices attained a new record, breaking through $63,000 on April 14. Bitcoin, the world's largest cryptocurrency, pushed towards $65,000 yet analysts are already predicting its next record climb. Unfortunately, as is the case with any tradable asset, once it reaches a record high, there will be a sell-off and the price drop that comes with it.  Bitcoin plunged to $55 00 yet even now it's rallying. 
Given its performance in 2021 so far, we ask should you buy the dip to profit when it rises? 
In this article we look at Bitcoin's meteoric rise, what has pushed the crypto market and where the digital currency will go next. 
Bitcoin on fire – price doubled in 
months
Since the beginning of 2021, Bitcoin's price has skyrocketed by more than 88% and its market capitalization is above $1 trillion. Since the start of 2021. Bitcoin has more than doubled in value, from a low of $29,000 to a high of $63 000 in mere months. 
 The performance of the seminal digital currency is nothing short of meteoric; In April 2020, it was trading at about $7,000. Rival cryptocurrency Ethereum has climbed in April, reaching its record of $2,205. 
The Crypto rollercoaster 
Bitcoins rise however has been anything but smooth; the crypto market remains incredibly volatile and major dips follow every price record attainted. In the days following its record high of above $63 000, the asset faced its next resistance level at $65,000. Unfortunately, it dropped in value as investors sold off the digital currency in order to capitalize on its value. As of April 21, however its price is rallying and trading above $55 000. 
Considering its record performance in 2021, investors still believe it could not only reach above $65 000 but could reach beyond $70 000 soon. 
Next rally point 
Demand for bitcoin and crypto has never been higher.  
Despite inherent volatility in an unregulated market, Bitcoin bulls are still pushing despite the dip. Analysts believe Bitcoin has entered a period of lower volatility while it consolidates before moving higher again. 
Below you can see Bitcoin's performance for the past 30 days: 
Below you can see its performance in 2021: 
Should you trade Bitcoin now?  
Despite the dip many investors predict Bitcoin could hit $100 000 before the end of the year. It comes down to basic of trading – buy low, sell high. Overall, trading crypto, especially Bitcoin, can be extremely volatile. The rewards however are great but so too are the risks. Find out how you can benefit from the crypto market at the end of this article. 
Crypto going mainstream 
 A growing list of companies is embracing Bitcoin. The biggest sign of Wall Street's growing acceptance of cryptocurrency is Coinbase official listing on the Nasdaq on April 14. At a valuation of about $100 billion, it gives continuing legitimacy to a market that was referred to as the "wild west of trading". 
Coinbase's debut marks the first official acceptance of the crypto market in mainstream markets. 
Many companies and institutions have supported Bitcoin in 2021, including Goldman Sachs, Morgan Stanley, and PayPal. Its biggest supporter is Tesla which invested $1.5 billion in Bitcoin and is accepting it as payment for its electric cars. 
 The rise of Dogecoin – the tradable meme 
 Dogecoin, a minor cryptocurrency, has been propelled into the crypto market spotlight following an astonishing $50-billion market capitalization. Dogecoin's price has already surged by 15 000% to 40 cents. In April Dogecoin's price has climbed hovering around its all-time highs, closing on $1.  
Billions in crypto value 
The crypto market is exploded in value over the past few years. Bitcoin currently has a total value of just over $1 trillion.  Rival digital tokens Ethereum and Ripple XRP are worth $240 billion and $55 billion respectively. 
 Should you invest in Bitcoin? 
In short, there has never been a better time to buy Bitcoin, the profit potential is staggering, and its growth has attracted many mainstream retail and institutional investors.  
It should be noted however that crypto is one of the most volatile assets in the financial markets and as its performance in 2021 has shown, it can just as easily hit $70,000 in days as it could tumble back to $40 000. 
Fortunately, trading Bitcoin with a licensed broker, such as CMTrading, offers a wide range of unique advantages to both trading beginners and experienced investors.  
For example, one of the benefits offered to CMTrading clients is the access to powerful leverage which allows for high returns even with a small initial investment.  
Traders will be happy to know that with a leverage ratio of up to 5:1 on all cryptocurrency pairs, they can magnify their trading profits by 500%. 
More reasons you should start trading Bitcoin with CMTrading: 
Low 

initial

 investment

: Start trading your favourite cryptocurrencies with just $250.

 

Buy or sell

: You can open a buy trade 

to

 profit when prices are going up, or simply open a sell trade instead

, 

profiting

 when its price falls

. 

 

Negative balance protection

: Even if you overleverage a position 

to

 take advantage of increased profits, you will never lose more than your 

initial

 investment. 

 
Your personal 

trading specialist

: Each 

CMTrading

 client is assigned with a personal trading specialist who can 

provide

 educational materials, trading tips, 

insights,

 and advice around the clock. 

 
How to get your share of the action 
You can join a community of 1 million registered clients that utilize the multi-award-winning platform of CMTrading to access more than 150 tradable assets.  
CMTrading clients benefit from buying or selling the top-performing cryptocurrencies including Bitcoin, Ethereum, Ripple and Litecoin via their desktop or mobile throughout the day.  
Here's how you can join them: 
Open a trading account

 
Download the 

trading platform

 

 
Start trading!

 
If you have any questions, please do not hesitate to get in touch with one of our customer support representatives or your personal trading specialist! 
Join CMTrading
, the largest and best-performing broker in Africa, and discover more opportunities with an award-winning broker. 
Register here to get started