8 great tech stocks to trade
The final earnings season of 2022, and the first for 2023, is upon us and already we've seen some major market movements.  
From Apple to Netflix, some of the world's biggest companies, especially in the tech sector, have released their Q4 earnings creating trading opportunities.  
Today, we look at some of the tech giants and share valuable advice for all traders. What's more, we have a special offer for new traders at the end of this article, so stay tuned!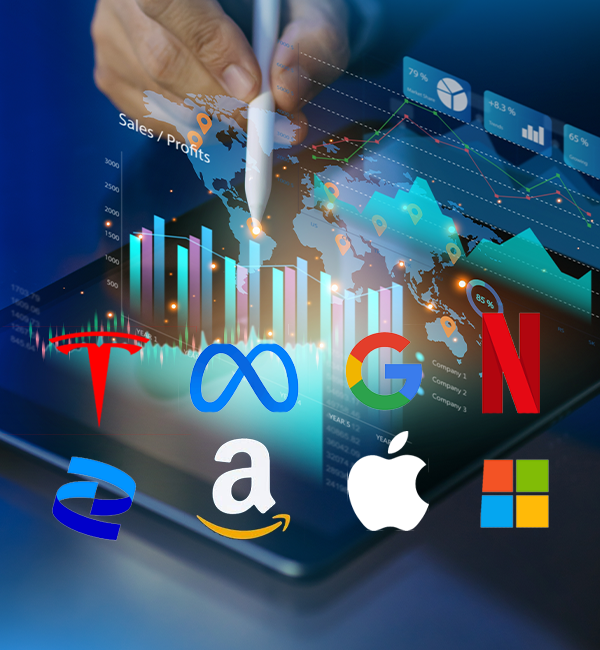 8 stocks you should consider:  
1 Netflix (NFLX) Q4 Earnings – More subscribers, more growth ahead  
Earnings Per Share (EPS) actual vs forecast – $0.12 / $0.59  
Revenue actual vs forecast – $7.85 billion / $7.84B   
Total market cap – $162.95 billion     
Streaming giant Netflix added millions of subscribers in the fourth quarter. This helped its share price improve despite missing its earnings target.   
Spencer Neumann, Netflix CFO, said: "We wouldn't be getting into this business if it couldn't be a meaningful portion of our business.    
"We're over $30 billion in revenue, almost $32 billion in revenue, in 2022 and we wouldn't get into a business like this if we didn't believe it could be bigger than at least 10% of our revenue."   
The company is positive for the year ahead; it predicts that revenue growth in the first quarter of 2023 will rise 4%, currently higher than the 3.7% Wall Street is projecting.  
2 Microsoft (MSFT) – Missed revenue target, cloud-based growth  
EPS actual vs forecast – $2.32 / $2.3  
Revenue actual vs forecast – $52.7B / $53.12B  
Total market cap – $1.92 trillion  
Microsoft's stock took a hit as it reported lower-than-expected revenue for the final quarter of 2023.   
The technology titan saw a huge drop in revenue from its core Windows and Office business.   
Amy Hood, the company's finance chief, said she expects the PC market will contract again in 2023, leading to a 17% year-over-year decline in its Windows business segment.   
The big focus for the company is its cloud-based market; revenue in Microsoft's Intelligent Cloud is $21.51 billion up 18%.  
3 Tesla (TSLA) Q4 Earnings – Targeting 2 million cars in 2023  
EPS actual vs forecast – $1.19 / $1.15  
Revenue actual vs forecast – $24.32B / $24.68B  
Total market cap – $610.27 billion    
Electric vehicle maker Tesla beat Wall Street estimates on both its earnings and revenue. Its share price has risen sharply. Tesla reported revenue of $24.32 billion and earnings per share of $1.19 for Q4 2022. Its automotive revenue was $21.3 billion, including $324 million of "deferred revenue" relating to Tesla's driver assistance systems.  
CEO Elon Musk said the company hopes to produce 2 million cars in 2023.  
4 Pfizer – the end of COVID-driven profits?   
EPS actual vs forecast – $1.14 / $1.05  
Revenue actual vs forecast – $24.29B / $24.38B   
Total market cap – $245.64 billion   
Pfizer reported $100.3 billion for 2022, an all-time high for the pharmaceutical company, driven by more than $50 billion in Covid vaccine and antiviral sales.   
COVID-derived profits however are expected to dry up in 2023; Pfizer expects a revenue decline of 33% compared to 2022. The company expects $13.5 billion in Covid vaccine sales in 2023. Interestingly, it expects $8 billion for its Paxlovid medication.  
5 Meta (Facebook) – Enter the metaverse   
EPS actual vs forecast – $1.76 / $2.26  
Revenue actual vs forecast – $32.17B / $31.53B    
Total market cap – $487.89 billion  
Meta finally shook off a terrible 2022 by ending the year on a high note. The parent company of Facebook exceeded estimates for its Q4 revenue sending its stock price soaring. The company also announced a $40 billion stock buyback and will continue to invest heavily into its "Metaverse" platform.   
The company provided a forecast for its first quarter 2023 report, suggesting that revenue could rise compared to a year earlier.   
Meta expects Q1 revenue between $26 billion – $28.5 billion.  
6 Apple (APPL) – Tough year ahead     
EPS actual vs forecast – $1.88 / $1.94    
Revenue actual vs forecast – $117.2B / $121.88B  
Total market cap – $2.40 trillion   
Apple has felt the brunt of low consumer confidence reporting 5% lower sales for the 2022/2023 holiday quarter. It's the company's first year-over-year sales decline since 2019.    
More alarming is the fact that Apple missed expectations for revenue, profit, and sales. Apple CEO Tim Cook that a strong dollar, production issues in China, and an overall recessionary economy have hurt the company.   
The revenue decline is the first for the company since 2016. Apple is however diversifying from its core iPhone and Mac business. The company has poured billions into its Apple TV streaming platform and its digital services division (i.e iTunes).  
7 GOOGLE  (GOOGL) – Advertising revenue drying up  
EPS actual vs forecast – $1.05 / $ 1.18  
Revenue actual vs forecast – $76.05B / $76.07B  
Total market cap – $1.33 trillion   
Alphabet, the parent company of Google, missed its fourth-quarter earnings in February. Google's shares were hit hard in 2022 by the decline in the digital advertising market. The company has also come under fire for retrenching 12 000 workers. There's also the looming threat of AI competition from OpenAI's ChatGPT chatbot.   
Google is beating the S&P 500 however and there's also a good chance that it will rebound alongside a resurgent tech sector in 2023, provided a new bull market continues.   
8 AMZN (AMZN) – Beating targets, setting the tone for the year ahead  
EPS actual vs forecast – $0.03 / $0.17  
Revenue actual vs forecast – $149.2B / $145.64B      
Total market cap – $1.04 trillion  
Amazon delivered better-than-expected revenue for the final quarter of 2022. Amazon ended its slowest year of growth with revenue for the year increasing 9% following inflationary pressures and rising interest rates. Its stock price lost nearly half its value in 2022.  
The E-Commerce titan said it expects Q1 revenue of between $121 billion – $126 billion. This represents year-on-year growth of 4% – 8%. 
_____________________________________________________________________________________ 
Special offer 
Take advantage of market movements with our special February offer and start trading today!  
How to get your bonus:    
1 Deposit $250 – get a $200 bonus  
2 Use promo code FEB200   
3 Trade with our bonus 
T&C Apply | Min. deposit $250 | Max reward $200 | New clients | Promo code: FEB200  
_____________________________________________________________________________________Ready to start trading? Open an account today        
Join CMTrading, the largest and best-performing broker in Africa, and discover more opportunities with an award-winning broker. Register here to get started            
Follow us on Facebook, Instagram, LinkedIn, Twitter, and YouTube