Twitter shakeup: Stock suspension, $20 subscription fee
Suspension of stock trading, firing the board of directors, axing hundreds of employees… Twitter is undergoing radical changes as new CEO Elon Musk takes over the social media platform.  
Musk, CEO of Tesla and the world's richest man, finalized his tumultuous $45 billion Twitter takeover following court intervention in October.  
Today, we take a look at the company, the changes already implemented, and what the future holds for one of the world's oldest social platforms.  
Become a better trader – Join our webinars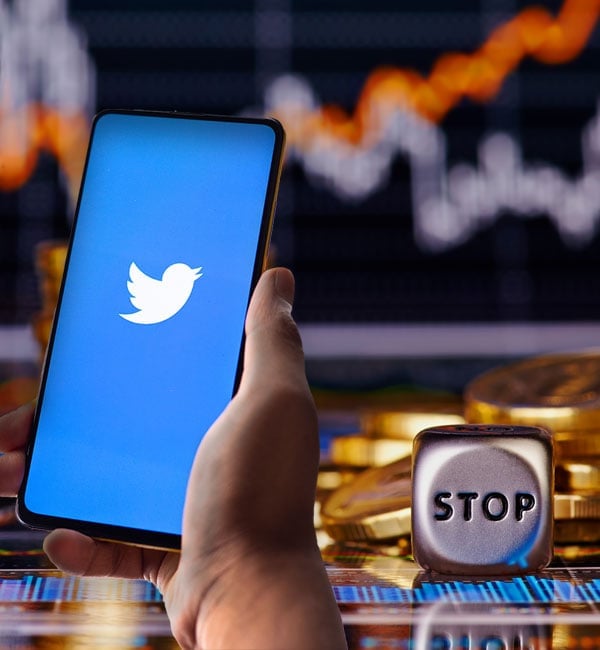 Suspension of Twitter stock  
Musk has hit the ground running after his Twitter takeover. Documents filed on October 31 with the US Securities and Exchange Commission (SEC) reveal that Musk has become Twitter's sole director by dissolving its corporate board.   
The documents state that the "consummation of the Merger" occurred on October 27, while the entire board, including CEO Parag Agrawal, was fired.  
Musk has since changed his Twitter bio to "Chief Twit". He has also given software engineers from Tesla access to Twitter's platform and is planning massive staff cuts. The deal has huge implications for shareholders as trading in the shares on the New York Stock Exchange has been suspended. This means no new purchases of the stock can be made. How long Musk will keep the company private remains unclear.  
Since the takeover, Musk has moved quickly to put his stamp on the social platform, which he had ridiculed previously for being slow to implement changes.   
Traders are taking notice of Musk, who already heads about four company's, new focus. Tesla's stock has lost a third of its value since Musk made his initial offer to purchase Twitter in April. This is much larger than the comparative 12% decline in the benchmark S&P 500 index during the same period.  
Deal gone bad, now complete  
When he made his initial $44 billion buyout offer in April, Musk stated that he intended to remove Twitter from the public market. He came under fire for wanting to end bans on accounts and restoring what he called "freedom of speech" back to the platform.  
By May it was clear Musk wanted to walk away from the deal. The company then sued Musk in a Delaware court. A judge ordered that either Musk complete the buyout by October or face legal action.   
With an October trial date looming, Musk sealed the takeover at $54.20 per share by the end of the month.  
A major change Musk is reportedly planning will be to charge users on the platform approximately $20 per month to earn the coveted verification badge. The new subscription plan, Twitter Blue, will allow those already verified 90 days to subscribe or they will lose their verified status.    
The proposed subscription could be implemented as soon as November 2022.  
Twitter Blue currently costs $4.99 per month and gives users additional features such as enabling the editing of tweets. Currently, however, the subscription has nothing to do with verification.  
Treat your trading like a business 
Verification is meant to signal to users that the account is authentic and not one of the millions of spam bots prolific on the platform. To receive the blue badge, an account must be "authentic, notable, and active," according to Twitter's current rule.   
There is no currently no charge to be verified.   
 Unsurprisingly, the move has been met with mixed views from Twitter users.  
Author Stephen King said: "20 a month to keep my blue check? They should pay me. If that gets instituted, I'm gone like Enron."  
To which Musk responded: "We need to pay the bills somehow! Twitter cannot rely entirely on advertisers. How about $8?"  
The billionaire said that introducing a subscription price would be an effective way to defeat trolls, bots, and scammers on the platform.   
Twitter currently derives the majority of its revenue from advertising. Like rival platform Facebook, Twitter has been reeling from a lack of digital advertising, a sector that has yet to return to pre-Covid levels.   
The proposed changes form part of Musk's plans to make subscriptions at least "half of the company's overall revenue."  
Tweeting without moderation  
Meres days into his new role, the billionaire's views on content moderation are already being tested. Musk has previously posted and then deleted a tweet spreading a now baseless anti-LGBTQ conspiracy theory about the recent attack on the husband of US House Speaker Nancy Pelosi.  
Understandably, Musk, a self-styled "free speech absolutist" is under heavy scrutiny for running one of the world's most popular social media websites. The deleted post is interesting considering how Twitter will react to misinformation and hate speech on its service in the future.  
8 top stocks you shouldn't miss     
Musk has promised advertisers that Twitter won't become a "free-for-all hellscape" yet also assured users that unfiltered speech will be the norm on the site.  
In an interesting move, engineers are working on rebooting the old looping-video app Vine. Presumably, this is to take the fight to Tik-Tok and Instagram. 
Overall 
Musk has a good track record of running profitably companies; Tesla is the world's most valuable car company, beating giants such as Toyota and Volkswagen. Twitter is in need of major changes and a shakeup such as this, however painful in the interim could have major consequences for the future of social media and marketing.  
Many companies, influences and institutions rely on Twitter as way to spread the news, attract new business and even lead-genertaion.  
Want expert trading tips?  
CMTrading offers all the latest trading tips, news, and information in real-time. Simply sign-up for an account and access your trading dashboard. What's more, it's completely FREE!  
 Gain access to the following powerful features:  
Trending stocks 

 

Analyst ratings 

 

Insider activity 

 

TipRanks smart score 

 
What's more, it's completely FREE!  
Ready to start trading? Open an account today        
Join CMTrading, the largest and best-performing broker in Africa, and discover more opportunities with an award-winning broker. Register here to get started            
Follow us on Facebook, Instagram, LinkedIn, Twitter, and YouTube