What You Should Trade This Week: Microsoft, Amazon & Meta
As a trader, staying ahead of the game and identifying profitable opportunities is crucial. If you're looking for your next trade, the three companies that deserve your attention are Microsoft, Facebook (Meta Platforms), and Amazon.   
Each of these tech giants is currently enjoying a boom in the tech sector, and there are several compelling reasons why they should be part of your trading strategy.  
Want to learn more about the markets? Check out our latest podcast!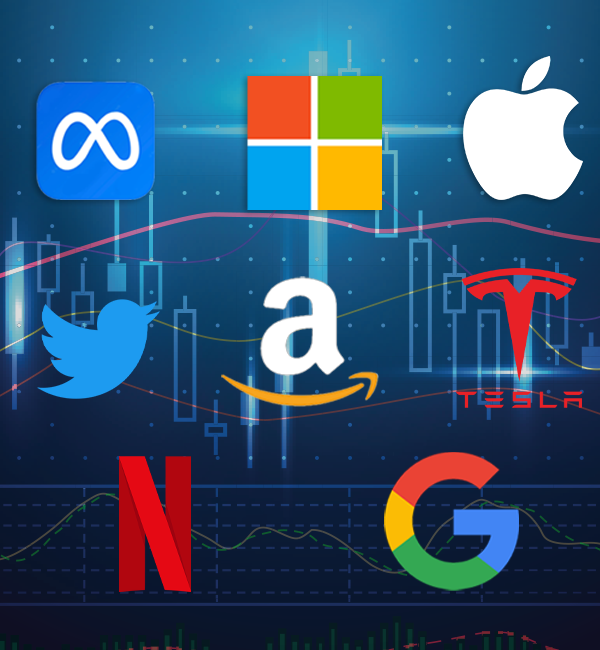 Top tech companies:  
Microsoft – 30% increase in value  
Meta Platforms (formerly Facebook) – 70% increase in value  
Amazon – 25% increase in value  
These companies are making new yearly highs for 2023 so there's no reason to be sitting on the sidelines and not be involved in the markets.  
CMTrading delves into each company's potential, its recent performance, and the market factors driving its success.  
What do the experts say?  
Fred Razak, Senior Trading Strategist at CMTrading shares his thoughts:  
"Year-to-year, Microsoft is only down from its all-time high of $347. It's right now trading at $332, so that's about $15 off of its all-time highs. This means percentage-wise that's less than 5% off of its best stock price.   
"Facebook has much more room to get back to its all-time high, it's about $100 off so about 30% behind. Facebook did make a huge comeback though Microsoft is leading the pack higher. The point of this all is there's money and there's money being flowed into these stocks. When it's being floated to these levels it means traders are betting, they're gonna go even higher. So at a certain point, the market will respond to this with some sort of qualification or correction to the stock price. Until then, we could see these stocks climb higher and higher."   
10 Amazing Ways To Use AI Plugins For Online Trading 
"One of the biggest reasons for the growth is the investment in AI. We're just getting into it, these are the first major strides towards it. It's akin to the internet arriving in 1997 but didn't truly hit the market until 2000. In the next three years, we'll see a boom in AI. These stocks might be undervalued by 50% – 70% percent. Microsoft could conceivably be at $600 a share or Facebook could be at $500 a share.  
1 Microsoft Corp  
$332,89  
+14.27 (4.48%) past 5 days  
+61.02 (22.44%) past year   
Microsoft, a behemoth in the technology industry, has been on a remarkable trajectory in recent years. With its diverse range of products and services, Microsoft has proven itself to be a powerhouse in the software, cloud computing, and gaming sectors. Over the past year, Microsoft's stock has shown impressive growth, with a 30% increase in value. This rise can be attributed to several factors, including the company's strong financial performance, expanding Azure cloud platform, and its focus on artificial intelligence (AI).  
The company's advancements in AI have positioned it for continued growth. The rapid adoption of AI across various industries, from healthcare to finance, presents Microsoft with a vast market to tap into. With its Azure cloud platform, which boasts impressive AI capabilities, Microsoft is well-positioned to capitalize on this emerging trend.   
Additionally, Microsoft's dominance in the gaming industry through Xbox and its subscription-based gaming service, Game Pass, further diversifies its revenue streams and contributes to its success.  
Unlock the power: 10 ways Ai is changing online trading 
2 Meta Platforms Inc  
$262,04  
+16.64 (6.78%) past 5 days  
+68.40 (35.32%) past year  
Facebook's rebranding as Meta Platforms highlights its strategic shift toward the metaverse. Over the past year, Meta's stock has experienced significant growth, with a staggering 70% increase in value. This surge can be attributed to investors' excitement surrounding the company's vision and its potential in the metaverse space.   
Meta is no longer just a social media platform but aims to create a digital universe that transcends traditional boundaries.   
This ambitious vision has captured the attention of investors worldwide. With the metaverse gaining momentum as the next frontier in technology, Meta's focus on developing immersive experiences and virtual reality technologies positions it for significant growth.   
As more users engage with Meta's platforms, such as Facebook, Instagram, WhatsApp, and Oculus, the company's revenue streams are poised to expand, making it an enticing trade option.  
Historic crypto hearing: What traders need to know 
3 Amazon.com  
$120,11  
+3.39 (2.91%) past 5 days  
-0.10 (-0.08%) past year  
Another company that shouldn't be overlooked is Amazon, a name that needs no introduction. Over the past year, Amazon's stock has taken a hit but is trending upward. This growth can be attributed to Amazon's dominant position in the online retail space and its ability to continually adapt and innovate.  
With its thriving Amazon Web Services (AWS) division, which provides cloud computing services, and its foray into streaming services with Prime Video, Amazon has diversified its revenue streams. Furthermore, the company's robust logistics network and investments in automation position it to capitalize on the ongoing e-commerce boom. As consumers increasingly rely on online shopping, Amazon stands to benefit, making it an attractive trade option.  
Big tech, bigger profits: Trade Apple earnings   
There's a positive sentiment surrounding the e-commerce giant. However, it's important to note that no investment is without risk, and traders should be mindful of market trends, economic indicators, and company-specific news to make informed decisions.  
Razak said: "Amazon is trading at $120 and although it's well off its high of $190, it's not relevant. I mean this is posted after its stock split a bunch of times. So, Amazon is a type of company that is consumer-based purchasing and we're seeing inflation kind of leveling off and we're seeing some more confidence in the markets.   
"So although there are layoffs and there is somewhat of a recessionary environment over the past year. It still hasn't hit crashed the market. Remember that in a recessionary world, people move from more luxury items to regular items. This means more items from Amazon that are less expensive.   
"That's the thing about recessions. Money doesn't disappear, It just relocates. And in this particular situation, Amazon is the beneficiary of low-cost shopping." 
Ready to start trading? Open an account today        
Join CMTrading, the largest and best-performing broker in Africa, and discover more opportunities with an award-winning broker. Register here to get started            
Follow us on Facebook, Instagram, LinkedIn, Twitter, and YouTube