Stock of the Week: Bitcoin price on fire, crypto market cap over $2 trillion  
It has been a rollercoaster ride for Bitcoin traders as the crypto king pushed towards $50,000 and increased the crypto market cap to more than $2 trillion. Here's how you stand to gain!  
Bitcoin (BTC) has experienced its biggest rally in the past month as the cryptocurrency tested the psychological $50,000 level on August 14.  
Bitcoin bears pushed the crypto king beyond the $45,000 resistance level to reach a high of $48,152, its highest since May 16.  
Want your share of the crypto king? Buy Bitcoin today!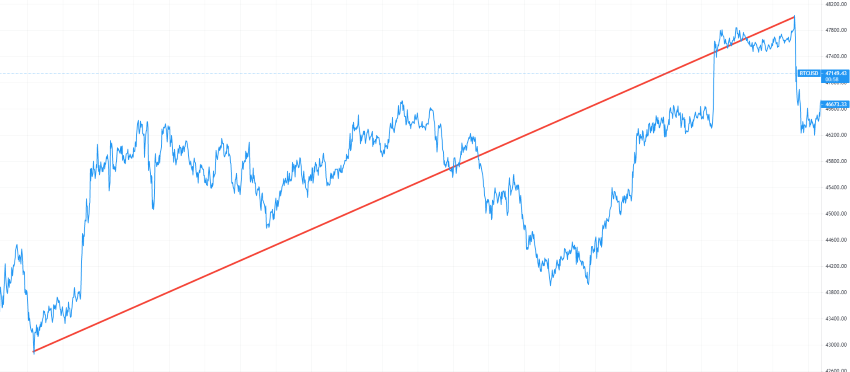 Crypto market valued at more than $2 trillion  
The total market value of cryptocurrencies rose above $2 trillion again as Bitcoin continued to climb. The total crypto market volume over the past 24 hours is $113.43 billion, a 3.28% increase.  
Not only Bitcoin saw a surge in value, but also rival coins including Cardano, XRP and Dogecoin advanced. 
Cardano, now the third-ranked cryptocurrency after Bitcoin and Ether, is up 47% over the past week. Binance coin increase by 14%, XRP 61% and Dogecoin 18% over the same period in August.  
Will the momentum continue?  
Momentum across the crypto market remains positive. BTC is inching closer to $50,000 with renewed predictions of the digital currency reaching its previous record of $64,000 and beyond.  
Crypto traders have yet to meaningfully use leverage as they have in past rallies. This could be due to Bitcoin's major crash in April and its slow rally beyond $40,000.  
The rally follows a change to crypto tax reporting rules passed in the recent US infrastructure bill. Many investors see the laws as a legitimizing event, providing security for the entire market.  
Trade cryptocurrency the easy way 
 Best performing asset of the past decade  
The cryptocurrency market reached record highs and suffered a disastrous retraction in April 2021 when Bitcoin reached a record of $63,000 only to collapse to $30,000.   
Yet despite the recent pullback, crypto has grown tremendously. Bitcoin has amassed an astonishing 209,000% return on investment in 10 years, making it one of the best-performing assets of the past decade.   
Bitcoin remains some $15,000 off its mid-April high of $63,000.  
The best place for Bitcoin trading in South Africa! 
Overall   
The crypto market and underlying blockchain technology are still in their infancy in terms of global adoption. This has not stopped the crypto market from reaching trillions in value.  
Earlier this year, many institutions have invested in crypto, and El Salvador has plans to use digital coins as legal tender.   
The crypto market is extremely volatile and can be swayed by rumors and influencers more than most. A good example was the rumor that Amazon was set to adopt Bitcoin as a form of payment in July. While this rumor proved false, it nevertheless set the price of Bitcoin soaring.  
Overall, the increase in global legislation and oversight will ultimately legalize and legitimize the former "wild west of trading" and draw even more investors to the digital currency market soon.  
How to get your share of the action      
Join a community of 1 million registered clients that utilize the multi-award-winning platform of CMTrading to trade more than 150 assets.   
CMTrading clients benefit from buying or selling the top-performing cryptocurrencies including Bitcoin, Ethereum, Ripple and Litecoin via their desktop or mobile throughout the day.   
Here's how you can join them today:      
Open 

a trading account

    

 
Download the trading platform.   

 
Start trading!  

 
If you have any questions, please do not hesitate to contact one of our customer support representatives or your trading specialist!