Stock of the Week: Apple in huge demand, beats estimates by billions.
Apple beat estimates for quarterly earnings by billions of dollars. We look at Apple's performance and what the future holds for the tech sector.
Apple delivered incredible quarterly earnings backed by high demand of its popular iPhone series and record-setting sales of Mac products. Its market performance, however, is affected by a drop in tech-stock prices, a bizarre court case and ongoing semiconductor shortage.
We look at Apple's performance so far this year.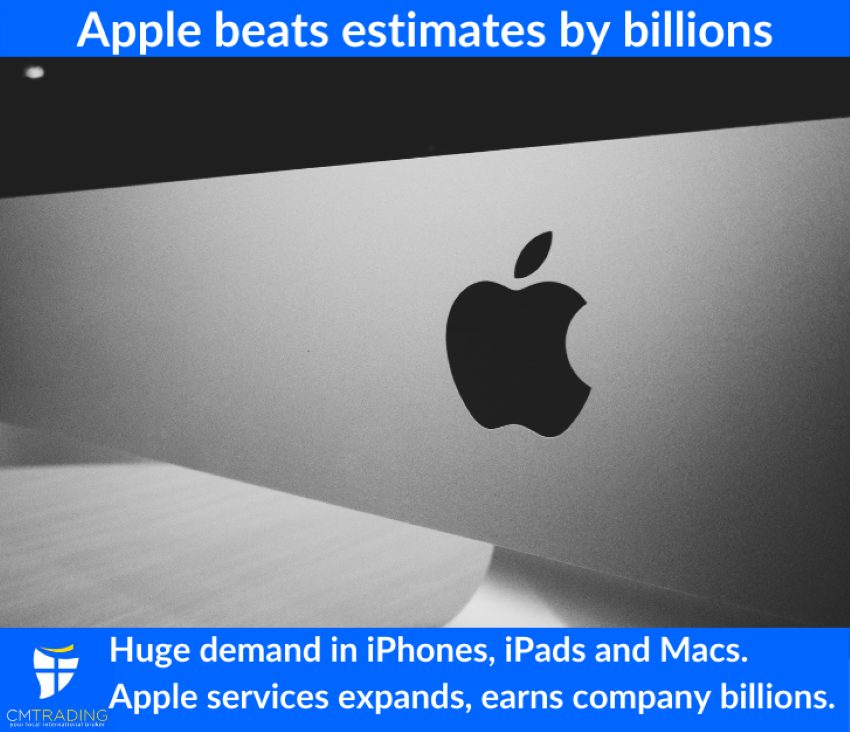 Apple in demand
Its latest earnings were the second consecutive quarter in which Apple posted double-digit year-over-year growth rates in all its product categories.
Product revenue surged 62% year-to-date driven by exceptional demand for its new iPhone and iPad. A big winner was its Mac product sales, setting all all-time revenue record. Its overall sales were up 54%, capitalizing on lockdown-headwinds. The biggest winner for Apple is its Services revenue; the high demand for its Services sees a profit margin double that of its products division.
Invest in Apple today – sign-up now!
Shareholders cheer
In the past year, Apple's shares have delivered a total return of 91.8%, well above the S&P 500's return of 46.1%. Apple will increase its dividend by 7% to $0.22 per share and will authorize $90 billion in share buybacks.
Apple earnings snapshot: 
Revenue: $89.58 billion vs. $77.36 billion estimated, +53.7%
iPhone revenue: $47.94 billion vs. $41.43 billion, +65.5%
Services revenue: $16.90 billion vs. $15.57 billion, +26.7%
Mac revenue: $9.10 billion vs. $6.86 billion, +70.1%
Gross margin: 42.5% vs. 39.8%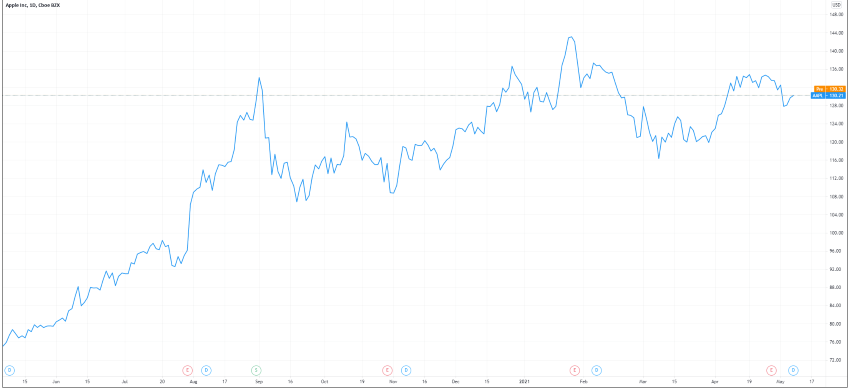 'We are confident in our future'
Tim Cook, Apple's CEO. "This quarter reflects both the enduring ways our products have helped our users meet this moment in their own lives, as well as the optimism consumers seem to feel about better days ahead for all of us."
Luca Maestri, Apple's CFO, added: "These results allowed us to generate operating cash flow of $24 billion and return nearly $23 billion to shareholders during the quarter. We are confident in our future and continue to make significant investments to support our long-term plans and enrich our customers' lives."
What's driving Apple's business?
Apart from its ever-popular cellphones and laptops, two major drivers of Apple's success are its investment in its software ecosystem and new chip technology.
Apple has pumped billions into its Services – App Store, Apple TV+, Apple News+, Apple Arcade, and Apple Music. Unlike its products which are susceptible to supply and demand, its Services can make the company more profitable by consistently expanding its offering.
Another area of success is Apple's custom-built tech, the M1 chip, a direct competitor to Intel's high-end processors. The company says its ARM-based M1 delivers is not only 3.5 times faster, but also more efficient and will reduce production costs.
Investors should keep an eye on Apple's hardware in 2021 to see if its new tech drives efficiencies and consequently profits.
Red flags
Since mid-April, a "softness" has been widespread in the market, affecting all tech stocks. And another concern is the bizarre Apple vs Epic Games legal battle which will undoubtedly affect Apple's share price. The anti-trust trial regarding the App store's policies could become a multi-week ordeal, dragging Apple's stock down.
The global tech industry is suffering a chip shortage as demand for semiconductors has far exceeded supply. Ongoing lockdowns has severely limited output and this is crippling industries. Apple has been forced to stagger the rollout of its new iPhones. Unless capacity is increased the tech sector will be stunted and see a decline in the market.
What's next for Apple?
Cook said: "Apple is in a period of sweeping innovation across our product lineup, and we're keeping focus on how we can help our teams and the communities where we work emerge from this pandemic into a better world. That certainly begins with products like the all-new iMac and iPad Pro, but it extends to efforts like the 8 gigawatts of new clean energy we'll help bring onto the grid and our $430 billion investment in the United States over the next 5 years."
Advice for buying tech stocks  
Buying into a big tech company such as the ones mentioned in this article can be incredibly appealing. However, technology's biggest strength is also its biggest weakness – it is forever changing. Historically, the tech sector can offer booms (as was the case earlier in 2021) and disastrous drops (such as the dot-com crash of 2000). Tech companies can skyrocket and plunge with the times.
If you are interested in investing in your favorite technology company, you need to ask yourself the following:
Do you understand how the company works?  
Does it have a competitive advantage over rivals?  
Can you trust the management or parent company?  
Is it growing?
If you answer YES to all these questions you might have spotted a great company to buy some shares in.
Discover more opportunities with CMTrading  
CMTrading offers more than 150 tradable assets including the top-performing stocks available in the markets. CMTrading clients get access to global brands, exceptional trading conditions and robust safety and security under the auspices of the Financial Sector Conduct Authority (FSCA) in South Africa.
Being a retail brokerage that specializes in CFDs (Contract for Differences), CMTrading provides clients with unique advantages such as powerful leverage, which allows traders with smaller accounts to gain exposure to much larger positions. This translates to higher profit potential; however, it should be noted that leverage also increases your exposure to downside risk.
While leverage typically adds a certain degree of risk to any investment, CMTrading also offers negative balance protection, thereby guaranteeing that potential losses will never exceed your invested capital.
If you are interested in learning more about how you can take advantage of price movements in stocks, currency exchange rates, commodities, or cryptocurrencies, you will find that CMTrading's unique offering of innovative services and diverse account types are suitable for both beginner and experienced traders.
Start trading the financial markets today with an award-winning broker. Join CMTrading, the largest and best-performing broker in South Africa.
 Register here to get started today!