Dogecoin 
is going to
 the moon… literally!
While the cryptocurrency markets have been put through the mill the past few weeks, Dogecoin managed to steal the spotlight with another surprising development.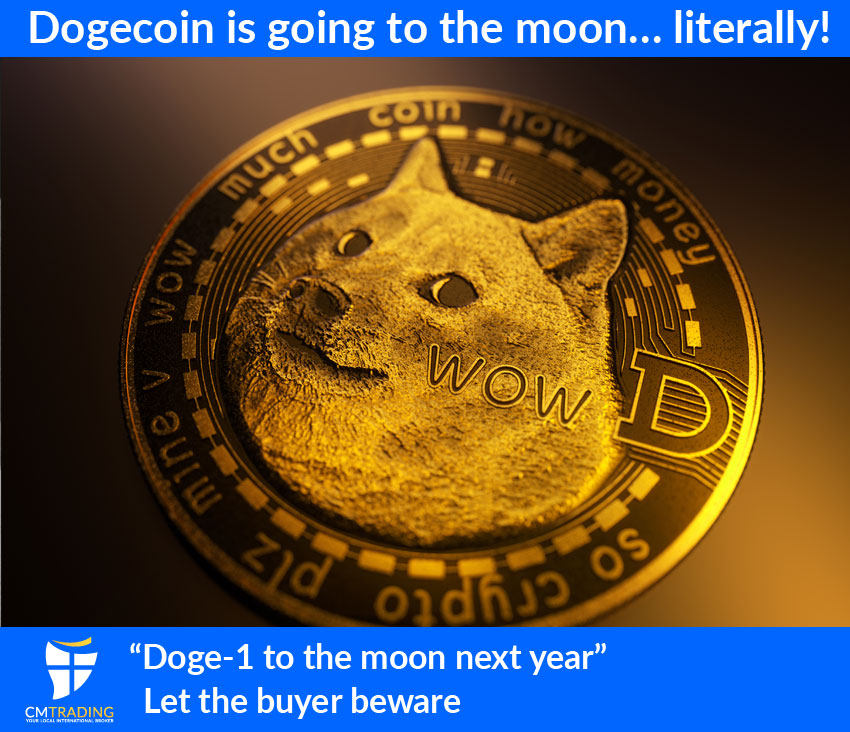 Thanks to none other than Elon Musk, the infamous CEO of electric carmaker, Tesla, we have another crypto drama on our hands – regarding the equally controversial cryptocurrency, Dogecoin or DOGE – which has managed once again to make the headlines and become the talk of financial investors around the world.  
It goes without saying that Elon Musk has taken a particular interest in cryptocurrencies and the future of the global financial framework. From the recent announcement by Tesla regarding the acceptance of Bitcoin as an official payment, to his tweets and name-dropping of Dogecoin on his appearance on Saturday Night Live, it is obvious that he is actively working on making crypto a mainstream currency.  
Of course, merely accepting Bitcoin as payment wasn't enough, Tesla also invested more than $1 billion in the cryptocurrency, ostensibly to prove that Bitcoin is liquid enough to handle higher value transactions as well.  
"Doge-1 to the moon next year"  
The amazing development for Dogecoin this time comes from SpaceX, which is of course another brainchild of Elon Musk. 
As Elon posted on twitter today: "SpaceX launching satellite Doge-1 to the moon next year". The tweet continues to reveal that the mission was paid for in Doge and this makes it the first crypto and meme in space. 
The mission is apparently funded by the Canadian Geometric Energy Corporation whose CEO, Samuel Reid claims: ""Having officially transacted with DOGE for a deal of this magnitude, Geometric Energy Corporation and SpaceX have solidified DOGE as a unit of account for lunar business in the space sector," GEC's CEO Samuel Reid said in a statement Sunday." 
This is exciting news, of course, both for the cryptocurrency markets as well as for the future of money and more importantly: lower fees on international and perhaps even interplanetary transactions.  
Unfortunately, however, despite the incredibly bullish energy behind the tweet it wasn't followed by a subsequent rally. In fact, the price of Dogecoin fell off a cliff on Sunday to settle below the 50-cent mark following the appearance of Elon Musk on Saturday Night Live as a host, who jokingly said that Dogecoin is just a hustle.  
Clearly this development was devastating for the majority of Dogecoin investors and holders across the world as Elon's appearance was expected to boost the coin beyond the $1 level, however, as it turns out Elon had the opposite effect.   
Let the buyer beware  
As is the case with any investment across all financial markets, it's up to the trader, investor or speculator to make his due diligence and risk management.  
Fiat currencies, stocks and commodities are volatile enough, however, cryptocurrencies are in a league of their own. Extreme volatility is the status quo across all crypto pairs as they can skyrocket to fresh records without a moment's notice as well as crash to all-time lows following a disappointing development.  
This is especially true for a cryptocurrency such as Dogecoin who lacks the stability of a larger-cap market such as Bitcoin or Ethereum. Therefore, traders of Dogecoin should ensure that they understand the risks that come with such high volatility and plan their trades accordingly.  
Please also note that CMTrading does not offer Dogecoin CFDs at this time, however, crypto enthusiasts can trade BTC/USD, ETH/USD, LTC/USD and XRP/USD and even fund their trading accounts using their cryptocurrency wallet of choice.  
Open an account now to get started!