Soaring Inflation, weak currencies slow growth in Africa
Rising inflation has become a shared trend globally. To combat this, many governments and central banks are being forced to raise interest rates which unfortunately will slow economic growth. 
Nowhere is the threat of soaring inflation more keenly felt that on the African continent. 
Inflation rises  
According to the International Monetary Fund (IMF), overall inflation is expected to grow to 12.2% in Africa. This is because many African countries lack a sufficient central banking system which results in the manipulation of currencies. 
Start your trading journey – Open an account today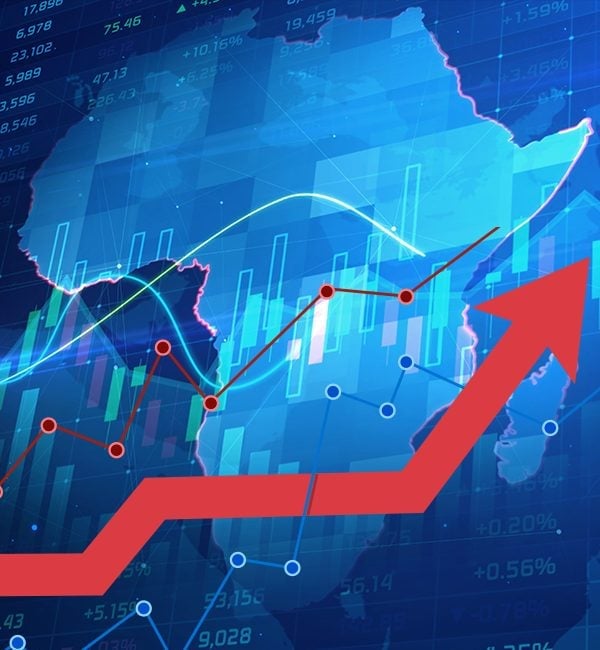 The African continent has also been plagued by global supply disruptions due to the ongoing COVID-19 pandemic. In February 2022, the world was rocked by Russia's invasion of Ukraine, which played havoc with oil and fuel prices.  
Africa, like many countries reliant on oil imports, is seeing high fuel prices and supply disruptions as some of the major drivers responsible for inflation.   
Sadly, food prices are set to rise even further, as Russia and Ukraine are major wheat, a food staple, providers to many African countries.  
Don't miss out – Get Daily Trading Signals   
Somalia for example imports nearly all its wheat from Russia and the Ukraine. 
Highest inflation rate in Africa 2022 
The IMF has realsed a list of the African countries facing high inflation in 2022. The organisation reports that Sudan has the highest inflation rate in Africa; in 2022 the country reached an incredible 245%, due to ongoing economic crisis and political instability.  
Stay up to date on the latest market news 
Zimbabwe is second on the list averaging 90%, followed by Ethiopia (34.5%). 
There are worrying signs of growing inflation in Nigeria, which at 9th place with 16.3% has seen a sharp increase in rates this year. 
Top 10 African Countries with the highest inflation rate in 2022: 
Sudan – 245.1% 
Zimbabwe – 86.7% 
Ethiopia – 34.5% 
Angola – 23.9% 
Sierra Leone – 17.3% 
Ghana – 16.3% 
Nigeria – 16.1% 
South Sudan – 16% 
Zambia – 15.7% 
São Tomé and Príncipe – 14.5% 
3 simple steps to start your trading journey  
Rate Hikes in Africa  
Economists believe African central banks will step up their fight against soaring inflation and currency weakness. Many African countries are likely to raise interest rates by August.  
Apart from the war in Eastern Europe, other factors affecting the continent include a slowdown in China's economy and expectations of more aggressive rate hikes by the US Federal Reserve. Fear of a worldwide recession is decreasing investor appetite. 
Countries such as South Africa, Nigeria, and Kenya, which are more connected to global markets, are set to raise borrowing costs. Interestingly, Angola shows signs of slowing inflation. 
 Become a better trader – Join our webinars   
South Africa under pressure 
South Africa's hopes for a brighter 2022 were dashed as the South African Reserve Bank's (SARB) inflation outlook worsened. 
The SARB reports it will continue tightening monetary policy aggressively despite a deteriorating inflation outlook. The Rand, which has shown remarkable strength against the US Dollar for the past two years, is now crumbling.   
SARB reports that inflation is set to accelerate to levels last seen during the global financial crisis of 2008. The country is also facing poor economic growth due to horrendous flood damage in the Eastern Cape, a province that's the second-biggest contributor to gross domestic product. Another major factor that will have lasting consequences is frequent rolling countrywide blackouts. 
 The easy way to become an online trader in 2022   
Nigeria – curbing inflation spikes  
Nigeria has seen the country's inflation rate hit its highest level since January 2017, reports the Central Bank of Nigeria. The country's inflation is likely to remain high due to increased fuel costs and supply shortages.   
Kenya – booming economy stalled 
Kenya, one of Africa's fastest-growing economies, has seen its highest inflation rate since 2017. Mounting price pressures, surging bond yields, and overall currency weakness has stalled the Kenyan economy. 
The country will likely see its second consecutive rate increase later in July 2022. 
Kenya's EGCL Institute reports that US dollar shortages have limited the country's ability to curb inflation or offer alternatives such as open market operations. 
Angola – Bucking the global inflation trend  
Angolan inflation is slowing despite price hikes across Africa. The country has seen a large influx of investment, specifically in the oil sector. With the war in Eastern Europe affecting oil supplies, many nations have sought alternative sources of precious fuel. Angola is one of these few countries that has risen to the challenge. 
Africa's second-biggest oil producer is likely to leave its rates unchanged in 2022, going against the trend seen across the continent. 
Interestingly, the local Kwanza has risen against the dollar due to high oil prices and credit-rating upgrades. These factors have helped keep the country's annual inflation in check. 
Safest way to trade – Why you should start trading CFDs       
One of the most advantageous methods of benefiting from market price movements is to trade CFDs online. CFDs or Contracts for Difference are financial derivatives that allow investors to speculate on the price fluctuations of an underlying financial asset (I.e., Apple or Amazon) without buying it beforehand.       
Don't miss out – Get Daily Trading Signals      
Moreover, CFD traders can profit both when prices are rising as well as when they are falling. This is because CFD trading allows traders to open a buy or sell position, which means they can buy when prices are moving up or sell when the prices are dropping to generate profits.       
Also, CFDs are traded on margin, which means that traders only need a small amount of capital to open a position on the market and enjoy increased returns at the cost of higher risk exposure.       
Please note that trading CFDs is considered a high-risk investment, which can result in the loss of your invested capital. Always get in touch with your account manager to discuss profit targets and how you can minimize your exposure to downside risk.       
Ready to start trading? Open an account today       
Join CMTrading, the largest and best-performing broker in Africa, and discover more opportunities with an award-winning broker. Register here to get started           
Follow CMTrading on Facebook, Instagram, LinkedIn, Twitter, and YouTube