NFTs are booming in 2021: Here's all you need to know about this blockchain trend! 
Blockchain technology in the form of Non-fungible Tokens (NFTs) is booming. Here's all you need to know about this latest crypto trend!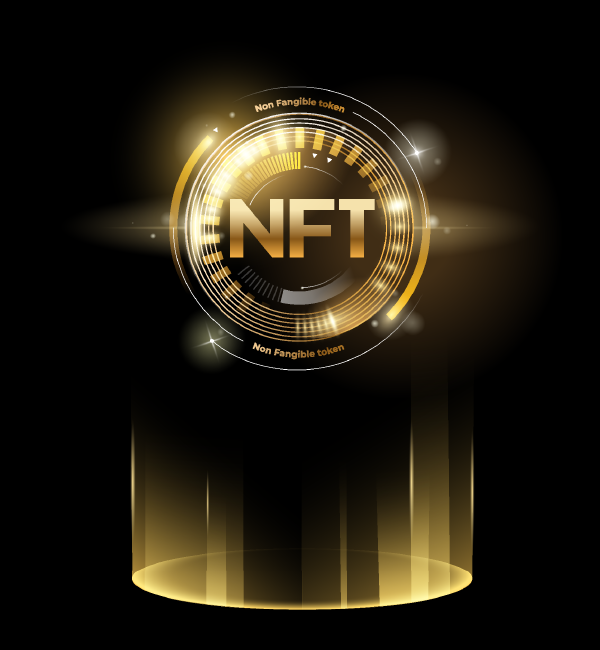 The crypto market was booming throughout most of 2021, with Bitcoin hitting a record $68,000 and dozens of new digital coins being added. While the crypto market is experiencing another period of mass sell-off in December, one crypto-based asset is booming – Non-Fungible Tokens (NFTs).  
We look at this latest blockchain trend and share valuable news and advice for all traders.  
What are NFTs? 
An NFT is data on a blockchain that is usually linked to a digital item. Ownership can be transferred via the blockchain.  
NFTs have a unique identifier and an identification of the item that they stand for. They are associated with at least one digital signature indicating the current owner of the NFT. The identifier also includes an identifier of the contract controlling the NFT.  
From music to paintings, the creation of multiple NFTs for any given item is possible.  
Start trading the crypto markets today  
How NFTs work  
NFTs are transferred by being signed with a new digital signature created by the current owner and the new owner.  
From artwork to music, NFTs can be anything digital and fetch a high price; the viral 'Charlie bit my finger' YouTube video recently sold for an incredible $761,000 as an NFT. A political video clip by artist Beeple sold for an incredible $6 million.  
The best way to understand NFTs is to see how companies and individuals are using this revolutionary tech.  
We list some of the latest stories in this NFT review:  
Music and Entertainment  
The music world is exploding with NFT opportunities; MakersPlace is partnering with Tupac Shakur's estate to bring to launch 'The Immortal Collection', a series of NFTs inspired by the artist, on December 15th.  
Selected audio interviews of the Beatles members will be minted on Ethereum, according to reports this week, featuring rare interviews of four unique NFTs for each member, as part of the music archive 'Voices of Classic Rock (VOCR).'  
Colour specialist Pantone released its new 'Color of the year' NFT on Tezos, in partnership with artist Polygon1993.  
Food and beverages  
Pepsi and VaynerNFT have launched Ethereum-based NFTs; the beverage giant will mint 1,893 tokens as part of a collection called 'Mic Drop'. This music-inspired series will connect with users' MetaMask wallets. McDonald's released McRib-inspired NFTs in November to a select number of winners.  
Technology   
Anima, a Coinbase-backed startup, is aiming to bridge the gap between the new Metaverse and Artificial Reality (AR)-focused NFTs. The new platform sees digital artist Demsky working together to launch a new project called Mirror.  
And finally, Microsoft venture capital fund M12 led a series of backing for blockchain platform Palm NFT Studio. Palm has previously hosted Warner Bro's recent Matrix-inspired NFTs.  
Overall  
Whether it's a famous painting or a digital avatar, every NFT is a unique token on the blockchain. Some investors are treating it like you would a fine art collecting – something that will accrue in value in the long term. Others treat them as tradable assets, especially the crypto-based versions. Overall, it's still a burgeoning market, albeit one that is receiving a lot of attention of late. The types of NFTs that can be created are endless and it's a space that will become very promising for traders and collectors alike.  
Should you invest in Crypto? 
The profit potential of the crypto market is staggering, and its growth has attracted many mainstream retail and institutional investors.  
Crypto is one of the most volatile assets in the financial markets and as its performance in 2021 has shown, it can just as easily hit $70,000 after a rally as it could tumble to $20 000.   
Fortunately, trading crypto with a licensed broker, such as CMTrading, offers a wide range of unique advantages to both trading beginners and experienced investors.   
For example, one of the benefits offered to CMTrading clients is access to powerful leverage allowing for high returns even with a small first investment.   
Traders will be happy to know that with a leverage ratio of up to 5:1 on all cryptocurrency pairs, they can magnify their trading performance by 500%.   
More reasons to start trading crypto with CMTrading:     
Low initial investment: Start trading your favourite cryptocurrencies for just $250. 

 

Buy or sell: You can open a buy trade to profit when prices are going up, or simply open a sell trade instead, profiting when its price falls.  

 
Negative balance protection: Even if you overleverage a position to take advantage of increased profits, you will never lose more than your initial investment.  

 

Your personal trading specialist: Each CMTrading client is assigned a personal trading specialist who can provide educational materials, trading tips, insights, and winning advice.  

 
Trade the easy way        
Join CMTrading, the largest and best-performing broker in Africa, and discover more opportunities with an award-winning broker. Register here to get started         
Follow CMTrading on Facebook, Instagram, LinkedIn, Twitter, and YouTube.   
Prices are accurate at the time of publishing.