CMTrading in the news: Year in review 2021
In 2021 CMTrading reached more than 40 million people across digital, print and broadcast platforms. Take a look at our year in the news. 
At CMTrading, we believe in giving every client the best trading experience possible. To help us achieve this goal we focus on delivering regular, quality market news and advice published on a variety of platforms. 
Our content has been featured on some of the biggest websites and platforms in South Africa and Nigeria. Today, we reflect on our year in the news. 
40 million reached 
In 2021 CMTrading reached over 40 million people across online, print and broadcast platforms. 41 press releases and articles were written, covering insights and opinions on diverse topics such as the top tech unicorns, cryptocurrencies, forex trading, interesting indices, quarterly earnings and so much more.  
This resulted in an impressive 284 mentions/published pieces across South Africa and Nigeria.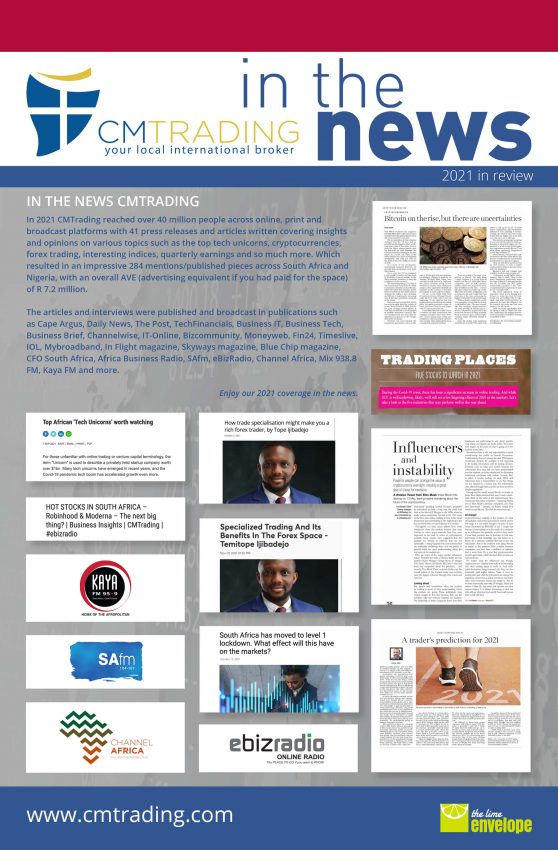 The articles and interviews were published and broadcast in publications such as Cape Argus, Daily News, The Post, TechFinancials, Business IT, Business Tech, Business Brief, Channelwise, IT-Online, Bizcommunity, Moneyweb, Fin24, Timeslive, IOL, Mybroadband, In Flight magazine, Skyways magazine, Blue Chip magazine, CFO South Africa, Africa Business Radio, SAfm, eBizRadio, Channel Africa, Mix 938.8 FM, Kaya FM and more. 
Here are some of the articles featured on South Africa's biggest platforms: 
Top African 'Tech Unicorns' worth watching 
CMTrading Daniel Kibel says: "Now is the opportunity to make money in this market" 
Passive Income Does Exist – And It's Easier Than You Think 
Bitcoin hits all-time high — but it's not too late or expensive to invest 
Trade the easy way       
Join CMTrading, the largest and best-performing broker in Africa, and discover more opportunities with an award-winning broker. Register here to get started        
Follow CMTrading on Facebook, Instagram, LinkedIn, Twitter, and YouTube.