Update: This article was originally published in 2020. It has been updated to include a guide on MT4.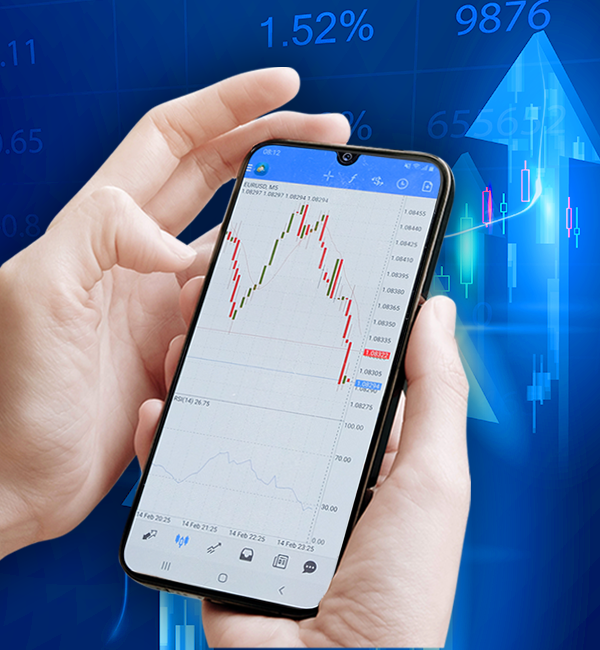 The globally renowned trading platform known as Metatrader 4 (MT4), was developed by MetaQuotes Software. It has gained widespread recognition in the industry since its launch in 2005. The Metatrader 4 app, offers an extensive array of features, including customizable indicators, a user marketplace, and various useful tools, making it a popular and reliable choice for traders.
Despite the introduction of its successor, MT5, traders have shown strong reluctance to transition to the newer platform, which boasts improvements. MetaQuotes has been advocating for the migration to MT5, asserting that MT4 has become outdated due to its technological limitations accumulated over its more than 15 years of existence. However, the announcement that MetaQuotes would cease sales and development of the MT4 platform took the industry by surprise. While new licenses will not be issued to brokers, existing clients will still have access to the MT4 app, with updates and support provided for the foreseeable future.
The success of the MT4 trading platform is attributed not solely to the ingenuity of MetaQuotes developers, but also to the collaborative efforts of countless traders. Through the platform's built-in programming language, MQL4, traders have created a vast ecosystem of custom tools, indicators, and Expert Advisors, fostering a thriving marketplace for these customized programs.
Unlike newer platforms, MT4 is available for free and can be downloaded from the MetaQuotes website or through brokers. It is accessible on various devices, including Macs, iPhones, iPads, Windows PCs, and Android devices. The platform's robust charting capabilities and deep customization options make it suitable for traders of all experience levels. Traders can opt for naked trading based on price action or incorporate a wide range of technical indicators and Expert Advisors for automated trading and analysis.
Social trading is also facilitated through MT4, offering subscription-based or free forex signals through the Signals tab. The Strategy Tester allows traders to assess the efficiency of automated trading strategies using historical data.
Despite its age, MT4 remains relevant and has transformed into a powerful tool embraced by traders over the last decade. Convincing users to transition to a newer alternative is challenging given the platform's legacy. MetaQuotes' unexpected decision to discontinue MT4 without community consultation has faced criticism, as the platform has become deeply ingrained in the industry.
While MT5 has yet to achieve critical mass, MetaQuotes struggles to persuade traders and brokers to shift from MT4. Third-party services have also expanded the platform's capabilities, and MetaQuotes' abrupt move has sparked concerns about migration and trust within the community. The discontinuation of MT4 signals a potential turning point for the industry, leaving room for the emergence of new platforms and potential consolidation, though the path forward remains uncertain.
How Can Traders Use MT4?
MetaTrader 4 (MT4) has had a significant impact on the landscape of online trading since its launch in 2005. Here's a guide outlining how MT4 has influenced and transformed online trading:
1. Accessibility and Convenience:
MT4 revolutionized online trading by providing a user-friendly platform that is easily accessible to traders of all levels, from beginners to professionals.
The platform's intuitive interface, charting tools, and trading features made it possible for traders to execute trades and analyze markets from their computers or mobile devices.
2. Technical Analysis and Charting:
MT4's advanced charting capabilities empowered traders to conduct thorough technical analysis using various indicators, trend lines, and graphical tools.
The ability to customize charts and indicators according to individual preferences allowed traders to develop and test their trading strategies.
3. Expert Advisors (EAs) and Automated Trading:
MT4 introduced the concept of Expert Advisors (EAs), which are automated trading programs that can execute trades based on predefined rules.
EAs allowed traders to implement complex strategies and execute trades without constant manual intervention, leading to greater efficiency and potentially reducing emotional trading decisions.
4. Algorithmic Trading and Backtesting:
MT4 enabled algorithmic trading by allowing traders to code and test their own trading algorithms using the MQL4 programming language.
The Strategy Tester feature allowed traders to backtest their algorithms on historical data to assess their effectiveness before deploying them in live markets.
5. Market Accessibility and Range of Instruments:
MT4 provided access to a wide range of financial instruments, including forex pairs, commodities, indices, and cryptocurrencies.
Traders could diversify their portfolios and explore different markets, all from within the same platform.
6. Trading Communities and Social Trading:
MT4 fostered a sense of community among traders through its social trading features.
Traders could share strategies, indicators, and insights with each other, leading to collaboration and knowledge exchange.
7. Economic Calendar and News Integration:
The platform integrated an economic calendar and news feed, enabling traders to stay informed about upcoming economic events and news releases that could impact markets.
8. Broker Integration and Customization:
MT4's popularity led to widespread adoption by brokers, making it a standard platform offered to their clients.
Brokers could also customize the platform with their branding, tools, and services, enhancing the overall trading experience.
9. Bridging the Gap Between Traders and Brokers:
MT4 facilitated seamless communication between traders and brokers, allowing for real-time execution of trades, order management, and account monitoring.
10. Influence on Industry Standards: – MT4's success influenced the development of subsequent trading platforms, shaping industry standards for user interface, features, and functionality.
11. Transition to MetaTrader 5 (MT5): – Despite the introduction of MT5, many traders and brokers remained loyal to MT4 due to its familiarity and comprehensive features, leading to a prolonged coexistence of both platforms.
In summary, MetaTrader 4 has had a profound impact on online trading by democratizing access to financial markets, empowering traders with advanced tools, and fostering a sense of community. Its legacy continues to influence trading platforms and practices in the online trading industry.
MT4 Beginners Guide
Here's a beginner's guide on how to use MetaTrader 4 (MT4) for online trading:
1. Download and Install MetaTrader 4:
Visit the MetaQuotes website or your broker's website to download the MT4 platform.
Install the software on your computer.
2. Launch MT4 and Open an Account:
Launch the MT4 platform.
Click on "File" > "Open an Account" to create a new trading account.
Fill in your personal information and follow the instructions to set up your account.
3. Navigate the Platform:
Familiarize yourself with the different sections of the platform, including the Market Watch, Navigator, and Terminal.
The Market Watch displays available trading instruments and their bid/ask prices.
The Navigator contains your trading account, indicators, and Expert Advisors.
The Terminal displays your open positions, account history, and news.
4. Analyze Charts:
Open a chart by double-clicking on a trading instrument in the Market Watch or right-clicking and selecting "Chart Window."
Choose a time frame (e.g., 1-minute, 5-minute, 1-hour) for your chart.
Add technical indicators, trendlines, and other tools for analysis using the "Insert" menu.
5. Place Trades:
Right-click on the chart and select "Trading" > "New Order" or use the "New Order" button on the toolbar.
Choose the trading instrument, volume (lot size), stop loss, take profit, and order type (market, limit, stop).
Click "Buy" or "Sell" to execute the trade.
6. Monitor and Manage Trades:
Use the "Terminal" window to track your open positions and orders.
Modify or close positions by right-clicking on them in the "Terminal" window and selecting "Modify" or "Close Order."
7. Use Pending Orders:
Set pending orders to enter the market at specific price levels.
Right-click on the chart, select "Trading" > "New Order," and choose the "Pending Order" tab.
Select the desired order type (Buy Limit, Sell Limit, Buy Stop, Sell Stop), set the price and other parameters, and click "Place."
8. Utilize Technical Indicators and Expert Advisors (EAs):
Add technical indicators to your charts by right-clicking on the chart, selecting "Indicators," and choosing the desired indicator.
Use Expert Advisors for automated trading by adding them to your charts. EAs can execute trades based on predefined rules.
9. Access Economic Calendar and News:
Stay informed about market-moving events by using the built-in Economic Calendar and News sections.
These tools provide information on upcoming economic releases and news events that can impact the markets.
10. Practice on Demo Account:
Before trading with real money, practice on a demo account to get comfortable with the platform and trading strategies.
11. Deposit and Withdraw Funds:
If you're ready to trade with real money, deposit funds into your trading account through your broker's payment methods.
Withdraw funds as needed by following your broker's withdrawal procedures.
12. Stay Informed and Educated:
Continuously learn about trading strategies, technical analysis, and market trends to improve your trading skills.
Utilize online resources, tutorials, and educational materials provided by your broker.
Remember that trading involves risk, and it's important to start with a solid understanding of the platform and risk management strategies. As you gain experience and confidence, you can refine your trading approach and make more informed decisions.
CMTrading & MT4 platform
CMTrading, the awar-winning online trading brokerage, harnesses the power of MetaTrader 4 (MT4) to provide traders with a comprehensive and innovative trading experience. By leveraging the advanced features and tools offered by MT4, CMTrading empowers traders to make informed decisions, execute trades seamlessly, and enhance their overall trading performance.
One of the key ways CMTrading utilizes MT4 is through its user-friendly interface, which caters to traders of all levels. The platform's intuitive design allows beginners to quickly grasp the basics of online trading, while also catering to the needs of experienced traders who seek advanced analytical tools. With MT4, CMTrading facilitates efficient order execution, enabling traders to enter and exit positions swiftly, capitalizing on market opportunities in real-time.
CMTrading also capitalizes on MT4's robust charting and technical analysis capabilities. Traders can access a wide array of technical indicators, graphical tools, and customizable chart layouts. This feature-rich environment empowers traders to conduct thorough technical analysis, identify trends, and make well-informed trading decisions. Moreover, CMTrading offers educational resources and tutorials to help traders harness the full potential of MT4's charting tools.
One of the standout features of CMTrading's use of MT4 is its support for algorithmic trading and Expert Advisors (EAs). By allowing traders to create, test, and implement their own automated trading strategies using the MQL4 programming language, CMTrading empowers traders to trade based on pre-defined rules and algorithms. This capability eliminates emotional biases and enables traders to execute strategies consistently, even in volatile markets.
Furthermore, CMTrading integrates an economic calendar and news feed within MT4. This integration equips traders with up-to-date information about economic events, news releases, and market developments. Traders can stay informed about potential market-moving events and adjust their trading strategies accordingly. CMTrading's dedication to providing relevant and timely information contributes to a more comprehensive trading experience.
CMTrading's commitment to supporting its traders extends to its responsive customer support and educational resources. Traders can access training materials, webinars, and expert insights directly within the MT4 platform. This approach ensures that traders have the tools and knowledge needed to navigate the intricacies of online trading effectively.
In conclusion, CMTrading utilizes the advanced capabilities of MetaTrader 4 to empower traders with a robust and user-friendly trading environment. Through its integration of advanced charting tools, algorithmic trading capabilities, and access to real-time market information, CMTrading enables traders to make educated decisions and execute trades with confidence. By combining the strengths of MT4 with its commitment to trader support, CMTrading enhances the trading journey for both novice and experienced traders alike.
For further information and inquiries about trading or partnership opportunities, visit CMTrading.com.
Join CMTrading
, the largest and best-performing broker in Africa, and discover more opportunities with an award-winning broker.
Register here to get started