Market winners: Tesla, Zynga, cotton, and more! 
Tesla stock rises then plummets, Zynga gets bought out and supply woes continue to push Cotton futures… there has been a lot of market movement in January 2022.  
It has been a poor start to the year for most markets; cryptocurrency saw a huge drop and similarly, the stock market experienced a major crash.  
That does not mean there haven't been opportunities for traders in the first month of 2022. Today, we look at some of these opportunities for the month.  
Biggest percentage move monthly:  
Stock: ZYNGA 34%  
The video game market is booming; the pandemic has driven sales of video games as well as consoles and PCs to record highs. As such gaming companies are eager to expand and grab more than their share of the gaming market, as was the case with Microsoft's $69-billion acquisition of Activision and Blizzard. Take-Two, the publisher of the hugely popular GTA franchise, has announced its acquisition of mobile-gaming titan Zynga. Following the announcement, Zynga's stock skyrocketed from $6 on Jan 7 to $9.15 by Jan 12. Its stock has held above $8 since then and is currently $8.67 at the time of writing.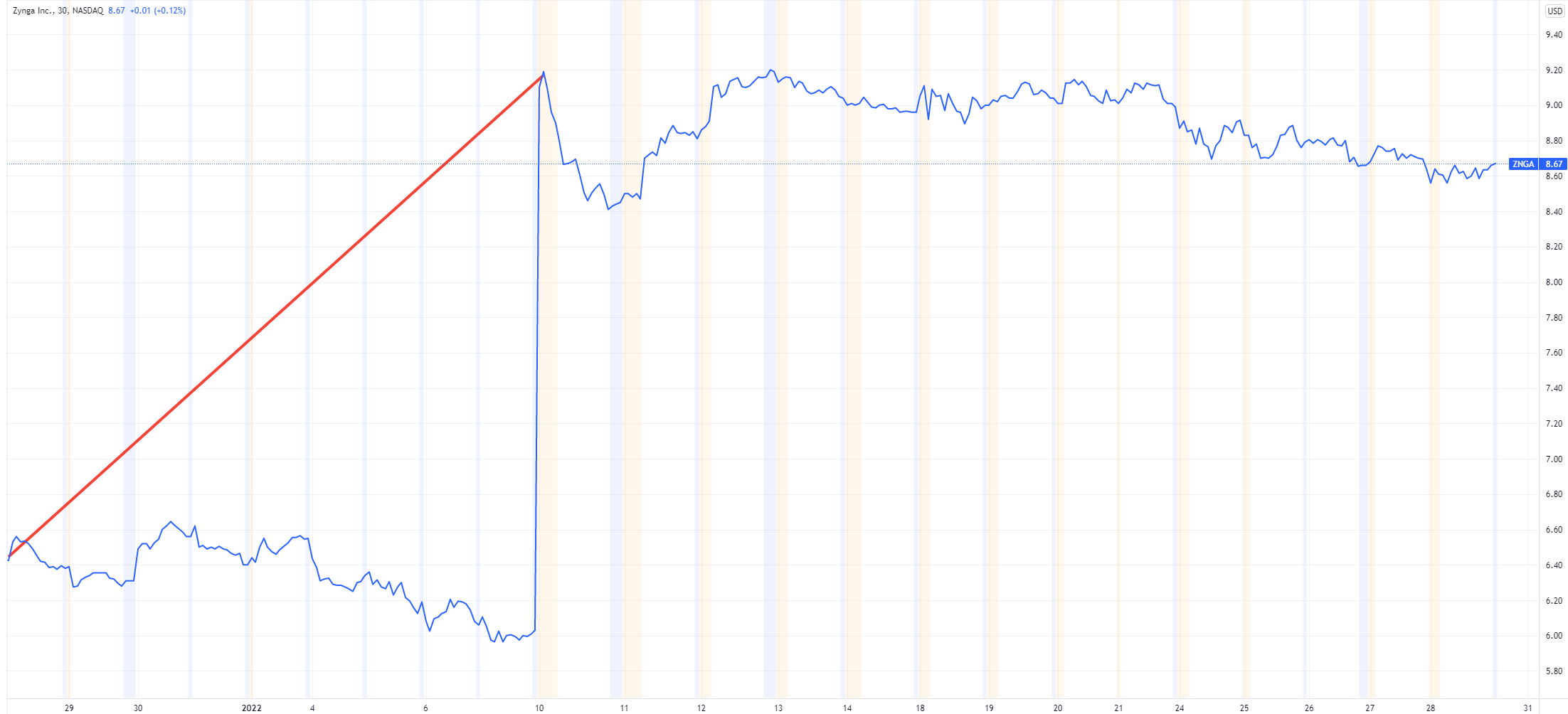 Commodities: COTTON 7%  
Since the onset of the pandemic in 2020, global commodity staples such as cotton and wheat have been affected by supply-chain issues. The demand for cotton remains high yet supply issues are driving the textile's price ever higher   
Cotton inventories are a global issue; India, the world's second-largest cotton grower, produced about the same amount it had for the past two years. China, the world's largest cotton producer, reports its crop is significantly lower in 2021 for the 2022 year. This translates to lower inventories yet when coupled with ever-growing demand, the price is climbing to record highs.  
 This has been a boom period for cotton traders, capitalizing on the upswing in price movement. Going forward in 2022 will mean more expensive goods for consumers which will ultimately drive down demand.  
Most tradeable instruments monthly:  
MATICUSD 
Polygon (MATIC) started the year well but experienced considerable weakness in line with the broader decline in the crypto market. Fears of heightened geopolitical tensions in Eastern Europe and a crackdown on crypto in Russia have led many to steer clear of the risky asset class. Polygon is down from a high of $2.4 on Jan 1 to a low of $1.5. This hasn't stopped traders from snapping up the token, which has held its ground better than most cryptos. There's also big news for investors as Polygon's new CEO is YouTube's Former Head of Gaming, Ryan Wyatt. He will head up Polygon Studios, the blockchain's division focused on developing gaming and NFTs.  
TSLA 
In 2021, Tesla was considered a darling of Wall Street, and with each quarter its shares continued to climb. In 2022, its fortunes are very different; the company is down 20% this year and worse is yet to come. CEO Elon Musk told shareholders at its 2021 fourth-quarter report that the company said it would not produce new model vehicles in 2022 citing supply issues, specifically the global chip shortage, as the reason.   
The company also revealed that it's not yet working on its highly anticipated $25,000 electric car. It has also dashed hopes that it would deliver its sci-fi-inspired metal pickup, the Cybertruck, in 2022. With the huge drop, however, Tesla has become a buying opportunity and could see its price rally.  
Trade the easy way          
Join CMTrading, the largest and best-performing broker in Africa, and discover more opportunities with an award-winning broker. Register here to get started           
Follow CMTrading on Facebook, Instagram, LinkedIn, Twitter, and YouTube.