Market winners: Bitcoin, Tesla, oil, and more!  
The markets have been rattled by the ongoing Russian-Ukrainian crisis.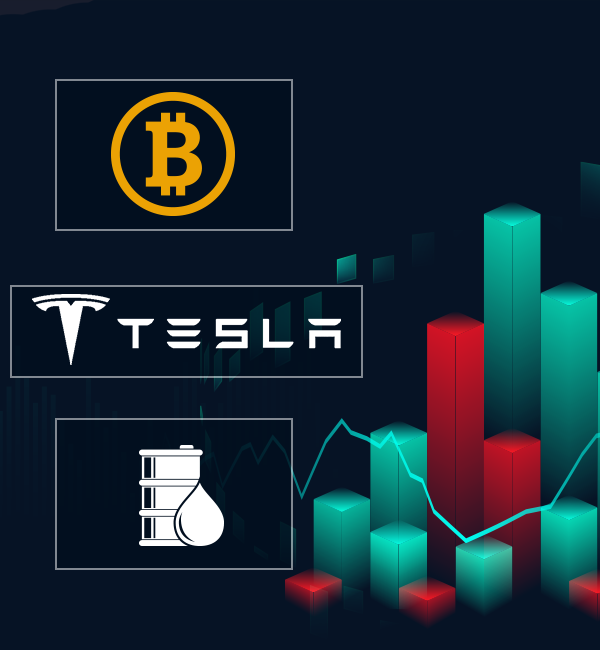 As sanctions hit Russia, the oil price has risen to record levels while traders turn to gold as a haven during the conflict.  
From record highs in the oil price to the ever-increasing price of wheat, we highlight some of the biggest movers and shakers on CMTrading's platform.  
Most tradeable instruments weekly:  
CRUDE OIL
The crisis in Eastern Europe has set the price of oil soaring to record levels. Sanctions imposed on Russia, one of the world's biggest oil producers, have disrupted an already pandemic-strained global oil supply.   
Oil rose more than 10% during early trading on March 07, due to concerns about the US and European ban on Russian oil and delays in Iran's nuclear talks. Earlier in February, oil had already breached $100 at the onset of the conflict.    
Ready to start trading? Open an account today  
Brent rose 9.56% to $129.50, while US crude rose to $125.17, up 8.23%. At the opening of Asian markets today, oil prices rose significantly, with Brent crude gaining 18% to $140 a barrel and US crude above $130 per barrel, before trimming their gains.    
The rise in oil price may be great for commodity traders but will soon spell disaster for motorists as the price of fuel escalates.    
Crude oil: 
WTI: 
2 BTCUSDMIN  
Bitcoin jumped as much as 10%, rebounding from a mass selloff, as Russian turned to cryptocurrency to circumvent sanctions.   
Digital coins Bitcoin and Ether soared from March 1 – 4; Bitcoin rose to as high as $44,165, while Ether hit $3022. Altcoins such as Solana, LUNA and Dogecoin saw a boost.  
Unfortunately, the Bitcoins rally however was short-lived; BTC.com issued a ban on Russian users, crashing the price of the cryptocurrency king to a low of $37 897 by March 7. The total crypto market decreased by 3.8%, to $1.71 trillion.   
3 BIOGEN  
Bio-pharm company, Biogen, made headlines in 2021 due to its advancements in Alzheimer's treatment called Aduhelm. Since then, however, the company has faced disaster with shares down 50% since June 10, 2021. Yet there's hope the company presents a unique "buying" opportunity. Biogen stock ($209,45, March 7) trades at 13.3 times the per-share earnings expected over the next 12 months, above its 5-year average of 11.4 times earnings.  
 Investors have faced a series of disappointments over the rollout of Aduhelm as sales have consistently missed Wall Street's expectations due to uncertainty around the efficacy of the drug.  
In March, the US Center for Medicare and Medicaid Services stated that Medicare, one of the country's biggest medical aid providers, wouldn't pay for Aduhelm, except in the context of a clinical trial. A disastrous blow for the drug as the majority of Alzheimer's patients in the US are covered by Medicare.  
 To compensate for the loss, Biogen has begun cost-cutting to the tune of more than $500 million, which includes axing many of its staff.   If the CMS changes its decision, Biogen shares could rise again.  
Biggest percentage move weekly:  
Stock: TESLA 26.14%  
Electric carmaker Tesla has had a rough year so far; Year-to-date its stock is down more than 18%, trading at $838,29. Yet despite a pullback, its shares gained in the first week of March 2022.  
Tesla has been hard-hit by the sell-off in the tech sector at the start of 2022 yet despite its drop in share price, its business is booming. The carmaker reported that deliveries in the fourth quarter of 2021 rose 71% year-over-year. This is an impressive feat considering the extremely challenging environment faced by most auto manufacturers. Tesla expects vehicle deliveries to increase by 50% or more in 2022. It also plans to open two new factories. These factors and more make the stock a premium valuation for traders.  
Wheat prices have hit record highs as concerns over a supply shortage rocked the market. The war in Ukraine has raised concerns of global food inflation; Ukraine and Russia account for about 30% of the world's wheat.  
The wheat market has already seen record high prices due to pandemic-induced supply issues. In March 2002, however wheat traded in Chicago, the international benchmark, has jumped more than 50% since the start of Russia's invasion. Prices have risen to as high as $13.40 a bushel, while European wheat hit a record of €406 per ton.  
 Food and agricultural experts have warned of increasing food insecurity in poorer countries as food-price inflation is expected to rise. In January 2022, the global average food inflation reached 7.8%, its highest level in seven years, according to the International Monetary Fund.  
It's been ten months since Chainlink hit its peak. The selling pressure on the cryptocurrency market since the start of 2022 has seen even Bitcoin suffer a crash.   
Crypto bulls finally showed support for LINK at the $11.7-mark. The altcoin recorded more than 24% gains in the first week of March.  
Join CMTrading
, the largest and best-performing broker in Africa, and discover more opportunities with an award-winning broker. 
Register here to get started