Google (Alphabet Inc.) registers fresh records following its recent earnings beat 
Google's stock soars to new highs after publishing its Q2 financials with growth that largely exceeded Wall Street's forecasts.  
On the 27th of July, Alphabet Inc., Google's parent company, reported earnings of $27.26 per share. This represents a 169% EPS increase for the tech giant. The company's gross revenues rose 62% to reach $61.88 billion and according to analyst estimates, Google was expected to report $19.24 per share on $56.29 billion in revenue. Also, compared with analysts' expectations of $46.19 billion, net revenue came in at $50.95 billion.  
The previous quarter was also a big win for Google, which managed to bring record profits upwards of $17 billion. However, the Q2 earnings call marks a fresh all-time revenue beat for Google and is also the fourth consecutive quarter of record profits. 
"In Q2, there was a rising tide of online activity in many parts of the world, and we're proud that our services helped so many consumers and businesses. Our long-term investments in AI and Google Cloud are helping us drive significant improvements in everyone's digital experience.", said Sundar Pichai, Google and Alphabet CEO in a press release.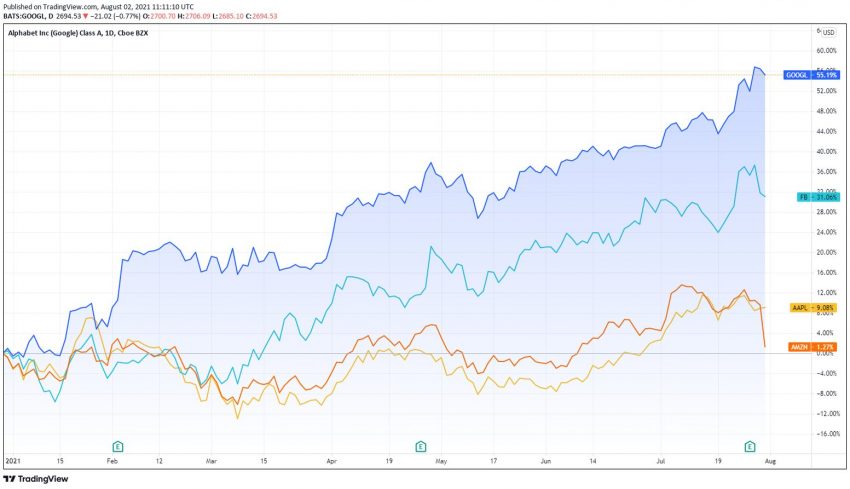 Reaction to earnings beat 
Following Alphabet's quarterly earnings report, Google's stock price soared nearly by 3% to achieve a fresh high at $2,765.94. 
A full year after the market crash in March 2020, the stock has been trending upwards after previously reaching a record high in February 2020. 
Google's year-to-date performance has been stellar as the company also managed to outperform its FAANG peers with a 55% stock price increase since January 2021. 
Currently, the majority of analysts at Wall Street predict that Google's stock price is poised to surpass the $3,000 level, especially considering the company's strong second-quarter 2021 earnings report.  
How to trade Google stocks online 
Due to the fact that Google (Alphabet Inc.) stock is traded on the Nasdaq stock exchange, aspiring investors can purchase Google stocks through a traditional broker and wait for its value to go up before selling. 
Financial derivatives, such as CFDs (contract for difference), however, offer a much easier and efficient method of trading stocks online.  
Since CFD trading offers the benefit of effectively buying or selling the underlying stock in a matter of seconds, along with the many advantages of margin or leverage, it is considered more accessible and affordable than traditional stock investing. 
In short, when you trade CFDs, you can choose to open a buy position when prices are going up in order to profit from the difference, or you can choose to open a sell position and thereby profit from the difference when prices start to drop. 
As already mentioned, margin or leverage is another feature offered by CFD trading. Leverage is an extremely useful tool when starting out, or even if you have a small account since it will allow you to open larger positions and maximize your profit potential. 
When trading stock CFDs at CMTrading, clients have access to 20:1 leverage. This means that for each $100 you have in your account, CMTrading will allow you to trade stocks worth up to $20,000, which can boost your potential profits significantly. 
Using excessive leverage, however, can increase your risk exposure as well as your profits and therefore, you should always consult with your personal account manager about the best trading strategies for you, as well as your profit goals and risk tolerance. 
Discover more opportunities with CMTrading   
CMTrading offers more than 150 tradable assets including the top-performing stocks available in the markets. CMTrading clients get access to global brands, exceptional trading conditions and robust safety and security under the auspices of the Financial Sector Conduct Authority (FSCA) in South Africa.       
Being a retail brokerage that specializes in CFDs (Contracts for Difference), CMTrading provides clients with unique advantages such as powerful leverage, which allows traders with smaller accounts to gain exposure to much larger positions. This translates to substantially higher profit potential, however, it should be noted that leverage also increases your exposure to downside risk.       
While leverage typically adds a certain degree of risk to any investment, CMTrading also offers negative balance protection, thereby guaranteeing that potential losses will never exceed your invested capital.        
If you are interested in learning more about how you can take advantage of price movements in stocks, currency exchange rates, commodities or cryptocurrencies, you will find that CMTrading's unique offering of innovative services and diverse account types are suitable for both beginner and experienced traders.       
Start trading the financial markets today with an award-winning broker. Join CMTrading, the largest and best-performing broker in South Africa.