Easy way to make money – Let Copytrading do the work for you 
We're living in uncertain times; the world is still reeling from the pandemic and slowly recovering. Financial security is more important now than it has ever been. Fortunately, thousands have turned to online trading as a means of generating additional income. From free online courses to easy mobile apps, it's never been easier to get involved in the financial markets.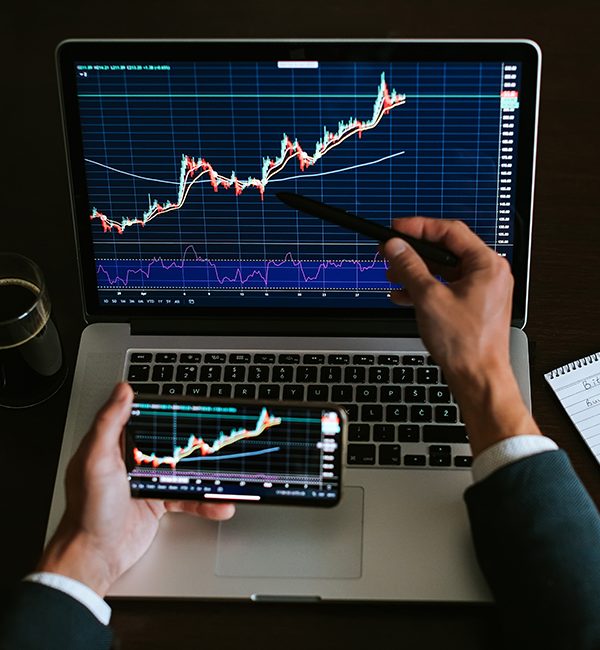 Become a professional trader in no time! 
Even if you have little to no knowledge of online trading, you can still take advantage of the financial markets. You can even pay the bills while you learn. How? By using copytrading and partnering with a reputable broker. What's more, we have a fantastic event and exciting offer to share later in this article! Stay tuned. 
Easier than ever to become a trader  
In the past, to become a trader you would need a business degree and belong to a major brokerage. Today, anyone can become a trader; all you need is internet access, free software, and a trading account.      
Still unconvinced that you should be a trader? According to "The Modern Trader" report there are approximately 13.9 million online traders worldwide. Why not join them in the easiest way possible and get your share of the profits?  
Trust is earned  
To become a successful trader, however, you will need education and the support of a reputable brokerage. A broker should have a long history of operation, have physical offices, and be licensed. CMTrading celebrates its 10th anniversary in 2022 and is a licensed and regulated broker. What's more, we're your neighbor with offices in Lagos and we've recently been awarded the Best Financial Broker Nigeria 2022.  
Time is money – we'll save you both  
We understand just how difficult it can be to provide for a family. Often, we want what is best for our loved ones, but we don't have the time or resources to achieve it. Our CopyTrader platform allows you to become an expert trader in no time; you simply copy the traders of the world's top traders. When they profit, so do you.  
Join our exclusive event:  
FREE TRADING SEMINAR at Port Harcourt 
Go from beginner to pro-trader! 
Seats are limited due to COVID19 restrictions  
ALL YOUR QUESTIONS ANSWERED  
From copy trading to why you should attend the event in March, Tope Ijibadejo, CMTrading Nigeria Region Manager, answers all your pressing questions and more.  
Tell us about your upcoming event  
Ijibadejo said: "We have an event in Port Harcourt happening on March 19. It's going to be a massive, explosive event that everyone should attend. It's going to expose the truth about financial trading. All the opportunities will be revealed. It will also be an event that will remove all of the misconceptions about trading. You'll see various opportunities in the market and discover pathways to be a part of this market. It's going to be an eye-opening event where attendees will meet with the professional, experts from CMTrading. You have will be given enough time to ask questions and ultimately set you on the right path to financial freedom.  
"Most importantly, the Port Harcourt seminar will transition into four days of intensive training that will uplift those taking part to a new level of proficiency in financial trading. This is an opportunity that nobody should miss. The training will equip you with all the knowledge, resources, and tools, that you need to start making money from the financial markets."  
What is copy trading?  
Ijibadejo said: "CopyTrading is a technology that allows a trader two mirror trades directly from other person's trading account into their own. Its social trading started for people who have less experience in the markets or people who do not have the time to trade. Tat's the advantage of social trading. It bridges the gap between the experienced and the inexperienced trader."  
I don't know anything about trading, how will this help me?  
Ijibadejo said: "Our technology provides this platform to help make sure that everyone can have access to the financial markets. Another very important thing about social trading is that as the name suggests it is social by nature. It's similar to Instagram or Facebook whereby you can follow and unfollow people.   
"With social trading, you can follow people without any costs. On Facebook or Instagram, if you want to follow Christian Ronaldo, you do not need to pay to follow him. That is exactly what social trading is. You can copy trades from a veteran trader without any form of payment on your end."  
Are they any fees involved in Copytrading?  
Ijibadejo said: "The veteran trader receives no financial benefit, they are only benefiting through followers. Some people want to have that recognition that they have hundreds or thousands of people copying their trades. It's the same as Cristino Ronaldo flexing on Instagram that he wants to have 10 million followers; nobody is paying him for that followership.   
"That's one advantage of social trading over copy trading; the difference is that in social trading it is free whereas in copy trading platforms there's usually an amount of money or a profit-sharing ratio. It's a benefit that we have social trading on our platform because our clients can copy others without any costs."  
'Learn at your own pace, no pressure  
"Social trading was designed majorly for people who have no experience in the market, it allows them to learn and earn at the same time. So the goal should be to learn how to do it yourself. Unfortunately, along the line, the bills keep piling up and will not wait for you to learn how to trade. So while you are learning, you have the opportunity to be earning at the same time. That's why copy trader and social trading are of immense benefit to a beginner in the market. It allows you to earn and learn at the same time because you can start earning are not under pressure.   
"You have traders that you have copied and so you can learn at your own pace devoid of pressure. "  
Can you make money from copy trading?  
Ijibadejo said: "Of course, yes. There are a lot of people who make a ton of money from copy trading. This is the idea of copy trading is for you to be able to make informed decisions. You can view information about the traders such as how long the trader has been trading. You also get to see their level of profitability. How much mix, maybe monthly, or how much makes quarterly. You're able to see the assets that the trader is involved in, such as cryptocurrency. This way you can make informed decisions and make money from copy trading. When they make money, so do you.  
How easy is it to learn to be a trader?  
Ijibadejo said: "OK, so how easy is it to learn? It's very easy to learn to trade because today you have access to so much information about trading. From videos to experts online, you have access to so much educational material.   
"Seminars such as the one we are hosting are a great way to learn about trading. The opportunities are knocking at your door. And trading is so assessable, knowledge is so accessible right now with the Internet and with the brokers that are offering most of the time free knowledge. Through free knowledge we want you to know how financial markets work and how to make money for yourself.  
'Six-day intensive program' 
"We have invested a lot in our clients and they now trust us with their financial growth. We have invested in them through education. For instance, we have something called to make "Make Me A Trader program; it's a six-day intensive program we host in Nigeria. We will lay the right foundation for you and traders will be able to build on it. We are so particular about education here and we go a step further in the sense of we have trading specialists, who even after your physical training, will provide one-on-one sessions regularly. Imagine having a trading specialist, one who can analyze market opportunities with your current market opportunities and show you the path to profits.   
 What makes CMTrading different?  
Ijibadejo said: "We have been voted once again as the best financial broker in Nigeria. People are seeing what we are doing and they're voting for us. It means they trust us and are spreading the word that we are a trusted broker. You can entrust your financial growth plan to us. I encourage everyone who wants to have a jolly experience in trading to do business with CMTrading. You will grow in your education. You will see success in the trading support received by your dedicated trading specialist. "  
How do I know I can trust you?  
Ijibadejo said: "CMTrading is a 10-year old company that is regulated and licensed by the Financial Sector Conduct Authority (FSCA) and the Financial Services Authority. This means that we're safe and are held to the highest standard. More than a million subscribers have entrusted their financial growth with us. You won't be the first person to be entrusting your money with us, so you are in very, very safe hands."