Dollar soars to two-decade highs
The euro dropped to within parity with the US dollar on July 12, a new low for the European currency and a two-decade high for the greenback. This has been a boon for Forex traders. 
Stock markets took a hit as the prospect of further monetary policy tightening by central banks and concerns about recession looms.  
Start your trading journey – Open an account today       
The US dollar's reputation as a "safe-haven" currency for traders has improved in recent weeks, as the dollar reaches two-decade highs against multiple rival currencies.  
The euro has been left vulnerable with the escalation spike in natural gas prices and the ongoing war in Ukraine destabilizing the region. Another factor weakening the Euro is the European Central Bank set to raise interest rates.  
Don't miss out – Get Daily Trading Signals   
On July 12, the euro was down 0.3% at a low of $1.0004, its weakest level in more than 20 years.  
The dollar index gained 0.3% to 108.48, while the British Pound hit another two-year low. The Japanese Yen is teetering at its weakest level in more than two decades.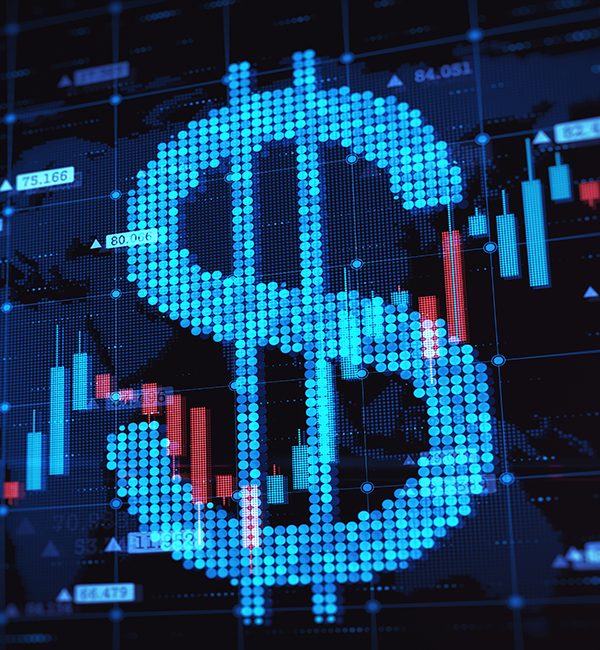 All eyes on the US economy 
The focus for traders and investors will be on macro data including US consumer inflation set to be released on July 13. Economists will also be watching for comments from US Federal Reserve ahead of the institution's upcoming policy meeting later in July. 
 Stay up to date on the latest market news 
The Fed has the dual task of curbing record-high inflation without stalling an ailing economy any further. A high inflation reading will pressure the Fed to implement more interest rate increases than it already has so far in 2022.  
Covid concerns, oil woes   
Another factor on investors' list of concerns is renewed COVID-19 restrictions in China. This announcement comes after new infections were detected in Shanghai from an Omicron subvariant in June. A resurgent virus could spell disaster for Asia.  
The surging cost of energy in Europe is also a major fear for economists. Earlier in 2022, harsh restrictions and sanctions were placed on Russian oil due to the country's invasion of Ukraine. Since then an agreement was made to supply natural gas. 
Unfortunately, the biggest single pipeline carrying Russian natural gas to Germany has entered annual maintenance. This will result in a pause in supply for at least 10 days.  
Become a better trader – Join our webinars   
Traders are bracing for sharp price increases when this occurs. The shutdown could also be extended due to the war in Eastern Europe. This could be the tipping point for Europe to enter a recession. 
Growth fears are weighing on oil. The oil price shot to a record high earlier in 2022 due to sanctions placed on Russia. By June 2022, prices dropped below $100 a barrel as limits were placed on supply, in due part to rising fuel costs.  
The easy way to become an online trader in 2022   
Brent crude futures dropped 2.2% to $104.73 a barrel, while US crude was at $101.53 a barrel (-2.44%). Gold still struggling in 2022 remains steady with spot prices trading at $1,735 per ounce.  
Crypto struggles 
Cryptocurrency prices suffered another drop, with Bitcoin dragging down to $19,670. 
Bitcoin saw record highs in 2021 teasing $70 000 yet by July 2022 it has lost 60% of its value. The mass sell-off of Bitcoin also had the knock-on effect of distributing the entire cryptoverse. 
USA, Japan to tackle economic challenges 
US Treasury Secretary Janet Yellen and Japanese Finance Minister Shunichi Suzuki agreed on July 12 to address rising food and energy prices together. The two nations said the Ukraine war has increased FX exchange rate volatility. This has resulted in adverse market conditions and poor financial stability. 
The two countries have pledged to monitor the foreign exchange market and work on currency issues. This is in line with their commitments as part of the Group of Seven (G7) and Group of 20 economies. 
Recession around the corner 
As global central banks continue to raise interest rates to reduce inflation, economists believe that a recession will occur in 2022. 
3 simple steps to start your trading journey  
Markets are being hit by growing unease about the global economic outlook. As cash-strapped consumers grapple with rising fuel and food prices, so too do their spending habits diminish.   
US monthly inflation figures hit a 40-year high near 9% in June. European and US stock futures are down half a percent in the second week of July.  
In line with nervous investors, US government bond prices are extending gains. Commodities such as iron ore and oil are under pressure. 
The Fed could implement another 0.75 percentage-point increase in interest rates later in July. 
These signs all point to a global recession and traders will need to adjust their strategies accordingly. 
Safest way to trade – Why you should start trading CFDs       
One of the most advantageous methods of benefiting from market price movements is to trade CFDs online. CFDs or Contracts for Difference are financial derivatives that allow investors to speculate on the price fluctuations of an underlying financial asset (I.e., Apple or Amazon) without buying it beforehand.       
Don't miss out – Get Daily Trading Signals      
Moreover, CFD traders can profit both when prices are rising as well as when they are falling. This is because CFD trading allows traders to open a buy or sell position, which means they can buy when prices are moving up or sell when the prices are dropping to generate profits.       
Also, CFDs are traded on margin, which means that traders only need a small amount of capital to open a position on the market and enjoy increased returns at the cost of higher risk exposure.       
Please note that trading CFDs is considered a high-risk investment, which can result in the loss of your invested capital. Always get in touch with your account manager to discuss profit targets and how you can minimize your exposure to downside risk.       
Ready to start trading? Open an account today       
Join CMTrading, the largest and best-performing broker in Africa, and discover more opportunities with an award-winning broker. Register here to get started           
Follow CMTrading on Facebook, Instagram, LinkedIn, Twitter, and YouTube