Can Microsoft stock rise above $300 amid strong fundamentals and record growth in Q4?
Microsoft's stock goes from strength to strength, outperforming its peers, as the tech giant and the world's largest software-maker continues to benefit from the global digital transformation.  
The working-from-home and remote-schooling era has had a largely positive impact on Microsoft's various businesses, which showed significant gains across the board in the second quarter of 2021. 
Microsoft's recent earnings release, published on July 27, revealed that Microsoft exceeded analysts' forecasts of $17.4 billion operating profit on $44.3 billion in revenue. 
In fact, the company's financials showed operating profits rose to $19.1 billion on $46.2 billion revenue – a 42% and 21% year-over-year increase respectively.        
Microsoft has also recently joined an ultra-exclusive club, becoming one of the two US companies to be valued above $2 trillion. The other, of course, being Apple, which currently enjoys a market capitalisation of $2.42 trillion.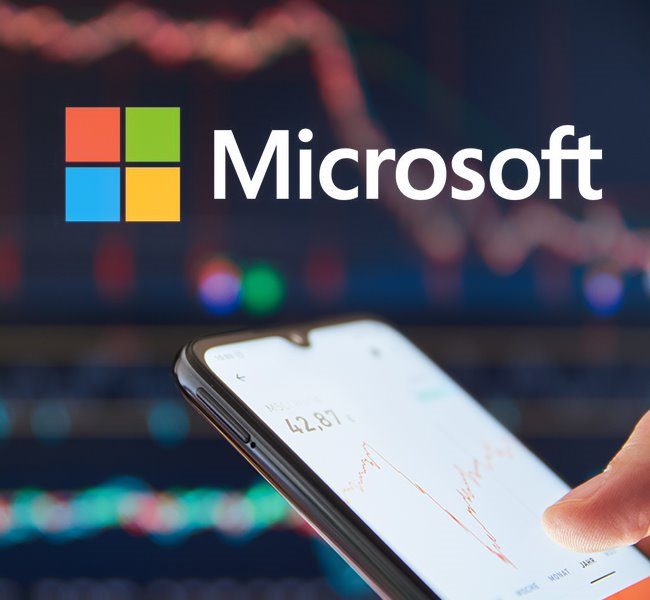 Microsoft stock performance – YTD 
 Microsoft's share price is currently hovering near $289, registering a 30% gain since the beginning of 2021 and according to the fundamental and technical analysis carried out by financial analysts, we can expect Microsoft to rise above $300 in the near-term. However, it's important for potential investors to note that market analysis is based on current market performance and is not a guarantee of future results. 
Discover more opportunities with CMTrading   
CMTrading offers more than 150 tradable assets including the top-performing stocks available in the markets. CMTrading clients get access to global brands, exceptional trading conditions and robust safety and security under the auspices of the Financial Sector Conduct Authority (FSCA) in South Africa.        
Being a retail brokerage that specializes in CFDs (Contracts for Difference), CMTrading provides clients with unique advantages such as powerful leverage, which allows traders with smaller accounts to gain exposure to much larger positions. This translates to substantially higher profit potential, however, it should be noted that leverage also increases your exposure to downside risk.       
While leverage typically adds a certain degree of risk to any investment, CMTrading also offers negative balance protection, thereby guaranteeing that potential losses will never exceed your invested capital.        
If you are interested in learning more about how you can take advantage of price movements in stocks, currency exchange rates, commodities or cryptocurrencies, you will find that CMTrading's unique offering of innovative services and diverse account types are suitable for both beginner and experienced traders.       
Start trading the financial markets today with an award-winning broker. Join CMTrading, the largest and best-performing broker in South Africa.