Apple unveils iPhone 14: Is the tech stock a buy?  
 Nothing rocks the tech world like a killer app or product and Apple (AAPL.O) is the king of both.   
Tech giant Apple on September 8 launched its latest iPhone series featuring satellite messaging for emergencies and a new rugged watch for sports enthusiasts.  
The iPhone 14 models, starting at a steep $799, will be an important test for Apple's ability to grab even more dollars from its affluent customer base.  
The launch comes at a particularly disastrous time for global markets, especially in the tech sector.  
Today, we take a look at Apple and find out from the experts whether it's a Buy, Sell or Hold stock.  
Become a better trader – Join our webinars      
Apple survives tech sell-off  
The start of 2022, saw a major sell-off in the tech industry. By September 2022, the bear market persists and many major tech companies have still not recouped losses.  
Apple however still holds the title of the most valuable publicly traded company; its market cap reached an incredible $2.55 trillion despite a tough year. The iPhone has finally overtaken Android device sales in the US.  
Don't miss out – Get Daily Trading Signals      
Despite inflation and soaring costs of goods, the iPhone maker has outperformed major indexes and many of its tech peers. The S&P 500 and the Nasdaq Composite both declined 17% and 26% respectively, while Apple has dropped just 13%. Apple's shares are trading at $155,96 per share about 1% up from September 6.  
Buy, sell or Hold?  
Apple like rival tech companies has seen poor performance in 2022 as the market abandoned tech stock. The company has seen a lot of volatility in the market with many spikes in its stock.   
Overall, it's down 14% Year-to-Date. The company reached a one-year high of $182.19 and a low of $128.86.  
Apple stock 2022: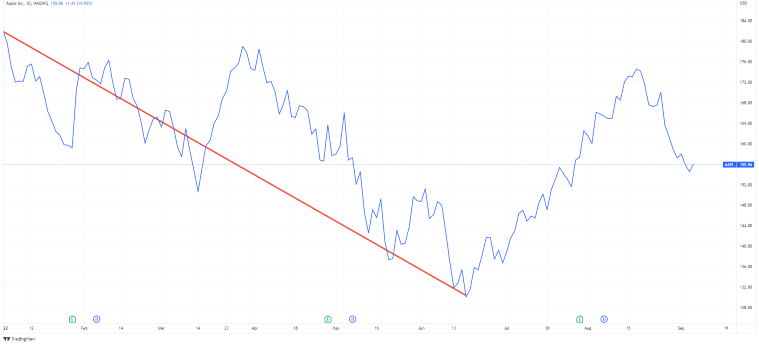 Despite the downward trend in the first six months of 2022, you can see Apple share are climbing again as we head into the final quarter of the year. 
What do the experts say?  
Apple is a stock to Buy, according to 27 analysts offering 12-month price targets for APPLE in the last 3 months:  
$183.12 – Analyst Price Target  
17.47% Upside  

The average price target is $183.12 with a high forecast of $220.00 and a low of $136.00. The average price target represents a 17.47% Increase from the last price of $155.88.  
Market sentiment  
A new iPhone is sure to cause a lot of media buzz. News of the iPhone 14, based on analysts and media Buzz, sees the overall market sentiment for Apple head into Positive territory with 71% showing a Bullish market ahead. Apple is trending on Google and traders will be eager to see pre-order sales data.  

There are however some red flags; like Amazon, there are calls for Apple to unionize and improve its worker conditions. Apple has also been forced to move production from China to India for its next-gen products which has raised concerns regarding quality. 
Headed to the stars  
One of the key features of the next-gen iPhone is its global emergency services provided by satellite company Globalstar.  
Shares of Globalstar spiked after Apple announced its partnership with the satellite company. After some volatility the stock ended down 1.9% yet is up 5% for the first week of September.    
Apple said the service will be available free to customers who purchase an iPhone 14 for the first two years of their contract.  
In a filing, Globalstar said the service will be rolled out during the fourth quarter of 2022. Apple said the service would launch in the US in November.  
Globalstar's stock has risen 76.7% in 2022.  
Paying dividends  
After a brief pause, Apple began paying a dividend again in 2012. Since then it has left investors smiling with an impressive track record. Its quarterly payout started at $0.095 and has soared to an incredible 143% in the past decade.  
The company's recent performance sees a quarterly payout of $0.23 per share, that's an increase of 5% for 2022. Incredibly, Apple is using less than 15% of its gross profits to fund investor payouts. This means traders have every opportunity to receive future increases.   
One billion iPhones and growing  
The original iPhone released in 2007 ushered in the modern smartphone. In 2022, as the world awaits the release of the new iPhone 14, Apple dominates the mobile market, with more than 1 billion iPhones sold.  
The challenge for Apple is converting existing customers; according to its data, roughly 24% of iPhone owners haven't upgraded their devices in the past 3.5 years.  
This could speak to the iPhone's longevity or more likely it's a sign of the current economy. In 2020, at the advent of the COVID-19 pandemic, many were loath to spend their money on "luxury" goods. 
This changed in 2021 as e-commerce dominated the market. Now in 2022 as inflation continues to curb economic growth and consumer sentiment, it will be much harder to convert existing Apple customers.  
The future of Apple   
Back in 2017, Apple announced an investment into its online and streaming services segment. By mid-2022, Apple services have come into their own with offerings including Apple Music, the App Store, Apple Pay, and Apple TV+ (among others).  
Collectively, its services segment set a June quarterly record, generating 19% of Apple's total revenue.   
Apple reports revenue records for its Music, Cloud Services, Apple Care, and Payment Services.  
Apple TV+ was launched to compete with giants such as Netflix and Disney. Since its launch, the service has achieved 250 awards, including 52 Emmy Award nominations in 2022.   
Want expert trading tips?  
CMTrading offers all the latest trading tips, news, and information in real-time. Simply sign-up for an account and access your trading dashboard. What's more, it's completely FREE!  
 Gain access to the following powerful features:  
Trending stocks 

 

Analyst ratings 

 

Insider activity 

 

TipRanks smart score 

 
What's more, it's completely FREE!  
Ready to start trading? Open an account today        
Join CMTrading, the largest and best-performing broker in Africa, and discover more opportunities with an award-winning broker. Register here to get started            
Follow CMTrading on Facebook, Instagram, LinkedIn, Twitter, and YouTube