Amazon stock extends gains ahead of 20-for-1 split
Amazon (AMZN) shares have been surging ahead of a major stock split for the world's biggest online retailer.  
The company has approved a 20-for-1 split, first made public earlier in March, in a Securities and Exchange Commission filing on May 31.   
Amazon shares are up 17% this week from a low of $2076 to a high of $2491 on June 1. Amazon is trading at $2433 at the time of publishing on June 2. At $2400 a share, even a small price change in Amazon would be a major disruption for the market considering its $1.24 trillion market cap.  
The record split follows a similar move by Google parent Alphabet (GOOGL) which is set to take place in July.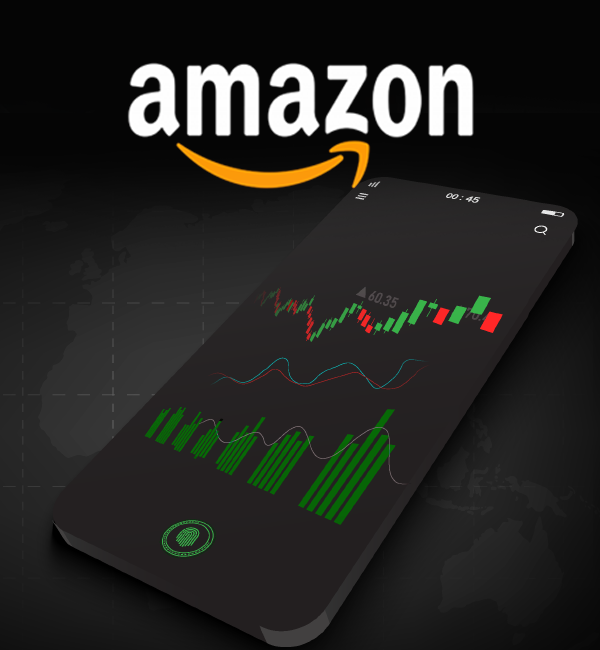 Stay up to date on the latest market news 
Amazon price split ahead
Amazon announced it would enact a 20-for-1 split on June 6 meaning that each share owned by a trader will turn into 20. At the same time, Amazon's stock price will be divided by 20. The split-adjusted prices will start on the 6th of June.  
On the 6th of June, before the market opens at 16:30 GMT+3, CMTrading will make the necessary actions on any open Amazon position our traders hold.  
How it works:  
Opening Price of each position will be divided by 20

Volume of each position will be multiplied by 20.

The market price will be divided by 20.

All pending orders will be removed
 How to become an online trader in 2022 
Example to demonstrate a typical trade Before and After the split:  
Before the Split, positions could look like the following: Figures are just an example  
Buy 1 Lot of Amazon at $2220 – Market rate $2222, Profit = $300  
After the Split, positions will look like the following:  
Buy 20 Lots of Amazon at $111 – Market rate $111.1, Profit = $300  
Take advantage of Amazon price movements – trade today 
All your Amazon trading questions answered 
Fred Razak, the chief trading strategist at CMTrading, shares his views on Amazon's stock split:  
Q: What is a stock split and how does it work?  
Razak: "So companies that go public, issue what they call shares, which are portions, of that company. So, when a company first goes public, they need to raise cash as they don't have the cash themselves. What they do is offer shares to investors to partake in some sort of share of the company's profits.   
"In the case of Amazon, they have issued shares from when they opened the company back in 1994 and since then the shares have gone something from $7 to $3000 over the past 20 plus years. They have appreciated so much that the only ones that could touch or purchase shares in Amazon are incredibly rich people. Well, right now the price is trading at $2400+ but what it does is that because of that, it's become so expensive to invest in Amazon that only financial institutions could participate in investing in them. So, it alienated most of the population. A stock split could see more people potentially invest in the company."  
Q: Is it worth trading Amazon?  
Razak: "The company wants to raise money or make it more available for other people to invest in their company. They will issue out more shares. To do that, they have to dilute the shares that they have.   
"So the price is adjusted to the number of new shares that they have now offered into the market. So for example, let's say the price right now is $2400 per share and they are doing a 20-to-1 split which is probably the first in history. I've never heard of it in my life where there's been a 20-to-1 stock split, which means instead of one share a trader would own 20 shares.   
"So there would be much more shares to go around for people to trade or purchase or sell in the market. It dilutes the price of the stock but will attract new investors to put money into the company because it's more affordable.   
"It's also a way for the company to raise capital for new kinds of ventures."  
Q: Why is the Amazon stock split so special?  
Razak: "Well, number one, it hasn't done a stock split since it first opened the company, which is something like in 1994. I remember it when it was trading at $300 and the company announced a 4-1 split and that was a big deal back then.  
"The company has just appreciated so much in value since then and to do a 20-to-1 stock split is incredible. I've never heard of such a thing in my life. So it's a very, very big injection of shares into the market all one time."  
Q: Tech stocks have dropped this year – is the sector still worth it?  
 Razak: "Tech stocks have dropped significantly this past year. All the big tech has dropped including Google, Amazon, Netflix, Apple, Microsoft, and Facebook. I mean across the board, everything in tech has come down tremendously over the past year and we are hitting a recession.   
"So there are some concerns in the background. There are some inflationary concerns, so it's not just tech-related. I think it's just more general market-related but tech is getting so much more heat for it because it was the tech that led us into the levels that we were at, let's say about five months ago on the NASDAQ and the Dow Jones.  
"It's getting the most amount of heat right now because it was the one that brought the markets to their all-time highs from the beginning of the pandemic and after the initial crash in March of 2020. The tech sector has been at the forefront of the catalyst that has brought the market to this level. So it's, the bellwethers and they're the ones that are creating new kinds of businesses out there. If they're not making money then you know that's kind of a sign of the times that we're in."  
Q: Advice for traders on Amazon's stock split  
Razak: "Well, I expect the markets to be choppy for a long time. I don't expect this to be just a once-off big bang.   
"It'll be erratic for a while, it might have a positive knee-jerk reaction and then a correctional move afterward. Traders should take advantage of all the volatility. I think that's the best advice you can give." 
Trade the best stocks in the world      
Moreover, CFD traders can profit both when prices are rising as well as when they are falling. This is because CFD trading allows traders to open a buy or sell position, which means they can buy when prices are moving up or sell when the prices are dropping to generate profits.         
Also, CFDs are traded on margin, which means that traders only need a small amount of capital to open a position on the market and enjoy increased returns at the cost of higher risk exposure.         
Please note that trading CFDs is considered a high-risk investment, which can result in the loss of your invested capital. Always get in touch with your account manager to discuss profit targets and how you can minimize your exposure to downside risk.        
Ready to start trading? Open an account today         
Join CMTrading, the largest and best-performing broker in Africa, and discover more opportunities with an award-winning broker. Register here to get started                       
Follow CMTrading on Facebook, Instagram, LinkedIn, Twitter, and YouTube