Year in review – Coffee soars, oil makes a comeback –here's what happened in commodities 2021
 From soaring coffee to oil making a comeback, we look at the world of commodities in 2021.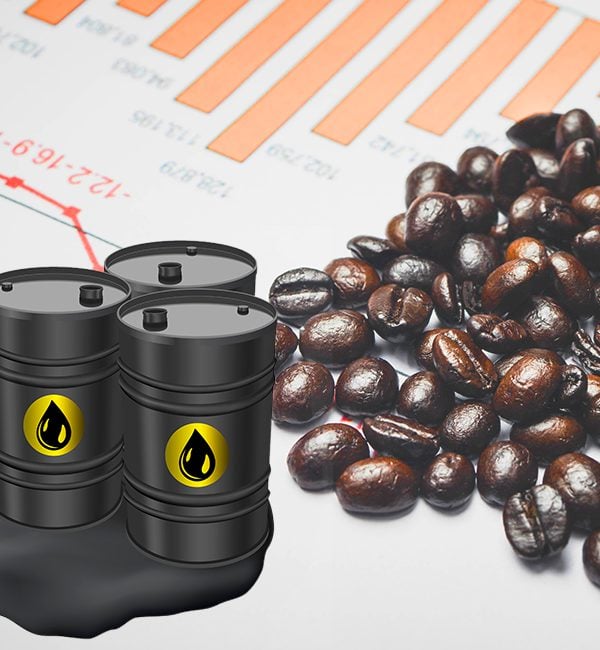 Logistic woes, travel bans, lack of supply… the commodity markets are highly susceptible to the ongoing issues presented by the pandemic. This year has proven to be extremely tumultuous for commodity traders with "safe assets" such as gold seeing a huge drop while oil made a terrific comeback.  
 We reflect on the commodity market and share valuable advice for all traders.  
Fred Razak, CMTrading senior trading specialists, said: "So the pandemic has had a cultural affect us on us as well, forever changing the travel industry. That leads us into commodities where the oil industry is, the market is still supplying demand yet it's still prone to shutdowns and travel bans. How many markets are opening? How much is travel going to change? These are major questions commodity traders need to ask themselves.  
"This is different from where gold is now; it's almost irrelevant because it's not a demand-supply kind of asset anymore. It's no longer the asset of the alternative of the US dollar as Bitcoin has started to gain that momentum and taken up that niche."  
 CFD trading – easiest commodity to trade 
Oil prices have explosively surged throughout 2021 to reach a three-year high at $83.50 per barrel earlier in October 2021. The upward momentum was curbed by the new Omicron variant sending jitters through the market, resulting in lockdowns and travel bans in December.   
Oil prices have climbed more than 60% during the year to date. As vaccines are rolled out globally, more countries are opening their economies resulting in a resumption in domestic and international travel. Supply has been limited to stabilize prices after oil futures dropped into negative territory in 2020.  
It's hard to believe that this is the same commodity that suffered a total industry collapse in 2020. The advent of the coronavirus pandemic had a catastrophic effect on the global oil and gas industry. On April 20th, 2020, the price of WTI (West Texas Intermediate) crude oil slumped into negative for the first time in history, dropping to -$37.63 per barrel. Travel bans, declining consumer demand, and high production output resulted in the lowest recorded oil prices.  
2 Gold – going nowhere, slowly  
The gold price, which was punching above $1,900 in May 2021, was on course for its biggest monthly rise since July 2020, attracting the attention of many traders. Since then, however, it's been struggling to break out of the 1700 – 1800 level. What was once a remarkable darling of the stock market in 2020, is now no longer the hedge against inflation it once was.  
Given its mediocre performance in early 2021, it is easy to overlook gold's incredible achievements a year ago. Gold reached an all-time high of $2,070 in August 2020, a 35% increase in that year, thereby surpassing the previous record of $1,821 in 2011.   
Sure, bulls have given up on prices ever reaching $3,000 (a real prospect in 202) but we should also remember that gold is up 20% from a low of $1,682 reported in June 2020.  
3 Coffee – biggest rise of all commodities  
When you think of commodities, gold and oil take the limelight. However, it's easy to forget that one commodity has been soaring in value above them all over the past year – the humble coffee bean.  
Earlier in December, we reported that coffee was soaring in value, and on December 8 the valuable bean hit a ten-year high; Futures for higher-quality Arabica beans hit $2.50 a pound, nearly double the price at the start of 2021 (1.1%) and it's up 99% YTD (year to date).   
That's astonishing growth considering the impact the ongoing pandemic has had on the restaurant and retail sector. At the time of publishing, coffee has posted the biggest price increase of any commodity in 2021, even more than the epic comeback of the oil industry and significantly more than the struggling gold sector.  
It's good news for traders but unwelcome news for consumers as the price of your average cup of coffee could soon see an increase headed into 2022. What's worse is that extreme weather and logistical issues have severely affected 2021's output, meaning this situation might only resolve itself by late 2022.  
For now, though, coffee traders are reaping the benefits of the market volatility, and so should you!1  
Advice for traders:  
Razak said: Nothing fundamentally changes in the markets with regards to trading. As long as you know how to navigate your way in trading the financial markets, you'll be able to deal with any challenge. The starting point is education. Visit CMTrading webinars and you'll learn how to spot trends and understand market analysis. You'll learn how to execute, open and close trades and take advantage of all the opportunities the markets provide.