Trade Forex on Your Phone with MT4
In recent years, the advancement in smartphone technology and the availability of higher data bandwidth have revolutionized connectivity, providing us with unprecedented access to the digital world. Capitalizing on this technological boom, MetaTrader 4 (MT4), the leading trading platform in the industry, has harnessed these developments to create a mobile application that brings the power of trading to the palm of your hand. The MT4 mobile app has evolved into a fully-fledged trading platform, becoming an indispensable tool for traders on the go.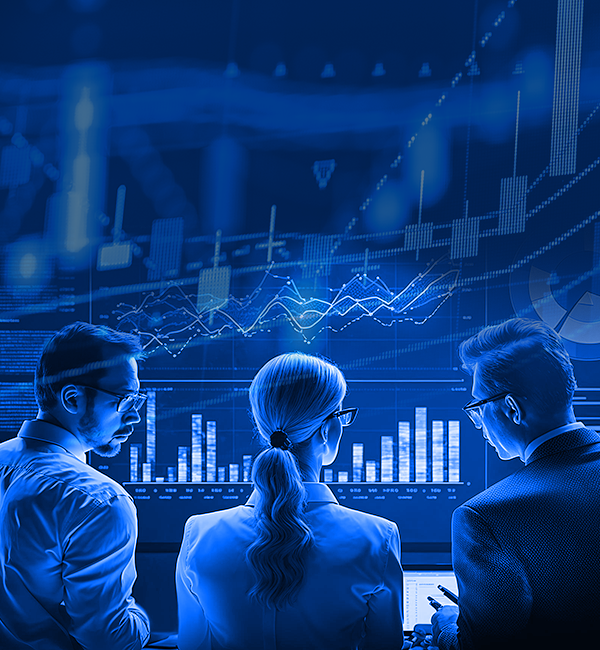 Cross-Device Accessibility
The beauty of MT4 lies in its cross-device compatibility, ensuring traders can access their trading accounts from a variety of internet-enabled devices. Whether you are using a Windows or Mac PC, an Android or iPhone smartphone, or a tablet, the MT4 app provides a seamless and consistent user experience. This commitment to accessibility ensures that traders can engage with the financial markets no matter where they are located. 
Embarking on Your Trading Journey
The MT4 mobile app is designed to replicate the functionality of its desktop counterpart, offering traders an almost identical user experience. This means that no matter whether you are trading from your office workstation or your mobile device, you won't miss out on the advanced tools and features that MT4 has to offer. The app features interactive charts, powerful analytics, and a comprehensive suite of trading tools, ensuring that you can make informed trading decisions regardless of your location. 
Seizing Opportunity with MT4
One of the standout features of MT4 is its extensive ecosystem of custom indicators and drawing tools. With the MT4 app on your mobile device, you can perform detailed price analysis, execute trades, and manage your account even while you're away from your primary trading setup. This level of access empowers you with the ability to tap into the financial markets 24/7, capitalizing on potential profit opportunities that might have otherwise been missed. 
Diverse Financial Instruments at Your Fingertips
MetaTrader 4 provides access to a diverse range of financial instruments, enabling you to trade various assets directly from your mobile device. You can speculate on forex currency pairs, spot metals, stocks, indices, and even high-performing cryptocurrencies. The customizable charts within the MT4 app offer various chart types, such as bars, lines, and candlesticks, along with a choice of nine different timeframes. These customizable features allow you to tailor your trading experience to suit your preferences, making it easier to predict future market trends and movements. 
Balancing Fundamental and Technical Analysis
Whether you identify as a fundamental or technical trader, MT4 has you covered. For those who prefer technical analysis, the platform offers a wide array of built-in technical indicators, and you can access additional custom indicators created by the trading community. Alternatively, if you lean toward fundamental analysis or want to keep track of macroeconomic factors, the MT4 app incorporates a live economic calendar. This calendar provides real-time updates on upcoming news events and high-impact announcements, all conveniently accessible within the platform. 
Empowering Automation and Social Trading
MT4 goes beyond traditional trading by offering popular features such as automated and social trading. The ability to follow forex signals seamlessly within MetaTrader simplifies the process, allowing you to automatically mirror the trades of signal providers. This streamlines your trading execution, eliminating the need to manually open each trade based on received signals. Moreover, MT4's marketplace features Expert Advisors (EAs), automated robots that scan the markets for trading opportunities. These EAs, whether free or paid, can be easily integrated into the platform. Once set up, you can monitor and adjust their activities from your mobile device. 
Seamless Integration for Effortless Trading
The MT4 app excels in providing a hands-off trading experience for those seeking a more automated approach. By subscribing to trading signals or utilizing Expert Advisors, even novice traders can swiftly identify potentially profitable trades. To ensure the reliability and accuracy of trading signals and EAs, you can initially test them on the MT4 demo account. Additionally, the MetaTrader 4 Strategy Tester tool offers a valuable means of backtesting your strategies or Expert Advisors. By specifying the currency pair and date range, you can analyze historical data and receive prompt results, enhancing your trading strategy refinement process. 
Embarking on a Journey of Success with MT4
With an impressive track record of stability spanning over a decade, MetaTrader 4 has firmly established itself as the go-to trading platform for brokers and traders across the globe. For those eager to trade multiple financial markets using their mobile devices, MT4 stands as a renowned, free-of-charge trading platform equipped with advanced tools indispensable for trading success. The expansive selection of financial assets available on the platform offers endless opportunities, and the robust community of MT4 traders offers timely support and advice through the MetaTrader forum, ensuring you're never alone on your trading journey. 
Accessing MT4: Where and How
The MT4 app ensures that you can seamlessly transition from your desktop to your mobile device and continue trading with ease. Whether you're an experienced trader or just starting your trading journey, the MT4 mobile app empowers you to take control of your trades anytime, anywhere. 
Refined Automation:

The MT4 app not only simplifies following forex signals but also introduces a refined approach to automated trading. Expert Advisors (EAs), available within the MT4 marketplace, can now be effortlessly integrated into the trading process. This refinement streamlines the process of monitoring and adjusting trading activities directly from the mobile device.

 

Empowering Novice Traders:

The MT4 app serves as an ideal gateway for novice traders seeking to embark on their trading journey. By subscribing to trading signals and utilizing Expert Advisors, even those with limited experience can swiftly identify potentially profitable trading opportunities.

 

In-App Strategy Testing:

The MetaTrader 4 Strategy Tester tool now offers a more intuitive and efficient means of backtesting trading strategies or Expert Advisors. This tool, accessible directly within the app, allows traders to analyze historical data, refine strategies, and make informed decisions based on robust data analysis.

 

Community Collaboration:

The MT4 trading community has been further integrated into the app's framework. Traders can now seamlessly access the MetaTrader forum, fostering a sense of camaraderie and collaboration among traders. This feature facilitates timely support and advice-sharing, transforming the trading experience into a collective endeavor.

 
Automated trading 
Social and automated trading are also some of the most popular features of MT4. In fact, following forex signals is a very straightforward experience on MetaTrader, since you can directly copy the trades of signal providers automatically. Whereas normally, with third-party signals, you have to open every trade manually according to the trading signals you receive. 
Likewise, Expert Advisors or EAs which are automated robots that scan the markets for trading opportunities – are also obtainable from the MT4 marketplace. Free and paid EAs can be found in MetaTrader 4 and once set-up, you can monitor their activity from your mobile phone and adjust accordingly. 
If you are after a hands-off trading experience, the MT4 app is the ideal trading platform. By subscribing to a signals service or an Expert Advisor, even newbie traders can identify profitable trades within seconds. 
Trading signals and EAs can be used on the MT4's demo account first to evaluate their accuracy and reliability but there's also the MetaTrader 4 Strategy Tester tool which provides a useful method to backtest your strategy or Expert Advisor. Just set the currency pair and date range for the historical data to be tested against your strategy and you will be presented with the results as soon as the tester goes through the data. 
The Fusion of Analysis: Bridging Technical and Fundamental 
n the world of trading ideas, two main ways stand out – looking at the details (technical analysis) and looking at the big picture (fundamental analysis). MT4's mobile app has cleverly mixed tools that work for both of these ways of thinking, bringing together different ways to make trading smoother. For those who like to dive into the details, there are lots of ready-to-use technical signs you can use, and even more custom ones made by other traders in the MT4 community. On the flip side, if you're more into seeing the bigger trends, the app also has a live economic calendar that's super useful. It's always updated with important news and events that can affect trading, and you can easily find it right in the app. 
Unveiling Possibilities: A Playground for Novice Traders 
Trading can seem complicated and overwhelming for people just starting out. But don't worry, MT4's mobile app is like a friendly door that welcomes new traders into this world. Even if you're just starting and don't know much, you can still use the app to follow trading suggestions and use Expert Advisors. These are like helpful guides that can quickly show you good trading moves. And here's the cool part – before you actually use them for real, you can test them out on a practice account in the app. It's like a safety cushion that lets you see how accurate and dependable they are before you start trading for real. 
Analytical Precision: Customization Unleashed 
The app helps traders break down how prices move, look closely at what's happening in the market, and make precise trades – all on their phones. Plus, the app lets you make the trading tools look just how you like them. You can choose different ways to show the price, like bars, lines, or candle shapes. You can also pick from nine different time periods to see how things change over time. 
Conclusion 
Being the industry's most stable platform for more than 10 years now, MetaTrader 4 has become the default trading platform for most brokers and traders around the world.   
If you are looking to trade multiple financial markets from your mobile device, MT4 is a world-renowned trading platform that is free and also has all the advanced tools a trader needs to succeed. The wide range of financial assets available through the platform offers countless opportunities and the massive community of traders that use it can provide timely support and advice at any time through the MetaTrader forum. 
Join CMTrading
, the largest and best-performing broker in Africa, and discover more opportunities with an award-winning broker. 
Register here to get started