Stock of the week: Pfizer up 16%, eyes vaccine sales of $26 Billion  
Pfizer has reported huge Q1 growth, with its revenue increasing to $14.6 billion. The pharmaceutical giant is expected to deliver 1.8 billion doses in 2021.  
Producing an effective vaccine is critical to defeating COVID-19 and many biotech companies took up the challenge. Of course, profits were to be expected but even experts were astounded just how well pharmaceutical companies would perform. One of these is Pfizer; the pharmaceutical giant's COVID-19 vaccine revenue was 60% higher than analyst predictions.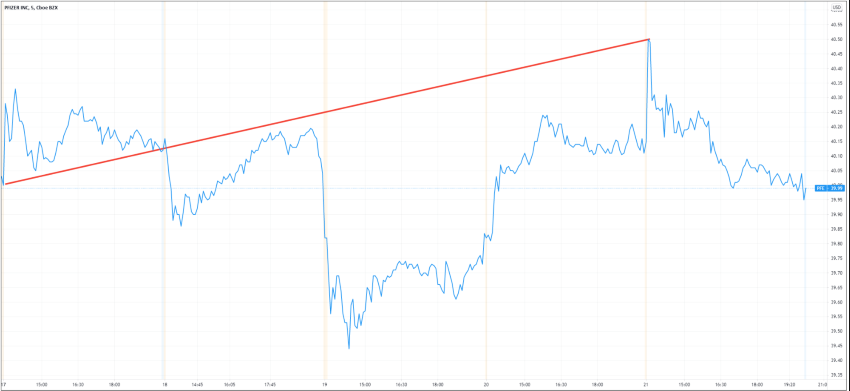 Pfizer beats analysts  
Pfizer stock is up 16% in the past three months and its Q1 2021 earnings beat estimates by billions. Its year-on-year (YOY) growth is 50% and its revenue was $14.6 billion, 44.6% higher than the same period in 2020.  
Adjusted Pfizer earnings in Q1 were 93 cents per share (47% vs. Q1 2020). The company's vaccine generated an astonishing $3.5 billion in revenue while analysts predicted $2.2 billion in revenue for its vaccine. 
Pfizer stock performance: May 17 – 21 
Vaccines drive sales, reduce COVID-19 spread  
Many governments and stakeholders have ordered more than 1 billion doses of the company's 'BNT162b2' vaccines. The South African government has approved 1.3 million doses of Pfizer's vaccines with millions more on the way.  
The US Food and Drug Administration has authorized the use of the company's vaccine in adolescents (ages 12 to 15), which has already resulted in increased orders.  
The company has contracts with several governments to supply vaccines through 2024. Pfizer brought in almost $42 billion in total revenue for 2020 and this year's coronavirus vaccine sales could exceed more than 50% of its previous year's entire revenue.  
Future – flu vaccines 
It is hard to see a world without COVID-19, but many companies are not only looking towards a COVID-free era but remodeling their business to take on future threats. Pfizer is investing heavily into mRNA technology to research, produce and roll out vaccines for existing diseases. The company plans to develop an influenza vaccine; in part to build on its COVID-19 vaccine success to get its share of the US influenza market valued at $7.3 billion.  
Despite its impressive performance, Pfizer has been trading at a cheap valuation; its stock currently trades at $39 hitting above $40 on May 21. Bulls predict we could be looking at $48 per share (+20%).  
A cheap stock price with immense growth potential is a great combination for investors.  
Red flags  
Not only does Pfizer have multiple rivals each producing its own vaccine, but its profits depend on maintaining the supply and efficacy of its product. Results are so far promising, but as was the case throughout 2020, there is a lot of uncertainty with the pandemic. Not only will rivals swoop in should production falter but there is the ever-present danger of the virus mutating, rendering current vaccines ineffective.  
Advice for buying biotech stocks     
Buying into any biotech company such as Pfizer can be incredibly appealing. However, technology's biggest strength is also its biggest weakness – it is forever changing. Historically, the tech sector can offer booms (as was the case earlier in 2021) and disastrous drops (such as the dot-com crash of 2000). Biotech companies can skyrocket (I.e. vaccines) and plunge with the times (e.g. reduced need for treatments).  
If you are interested in investing in a company, you need to ask yourself the following:     
Do you understand how the company works?  

 

Does it have a competitive advantage over rivals?  

 

Can you trust the management or parent company?  

 

Is it growing?  

 
If you've answered YES to all these questions, you might have spotted a great company to buy some shares in.  
Discover more opportunities with CMTrading     
CMTrading offers more than 150 tradable assets including the top-performing stocks available in the markets. CMTrading clients get access to global brands, exceptional trading conditions and robust safety and security under the auspices of the Financial Sector Conduct Authority (FSCA) in South Africa.   
Being a retail brokerage that specializes in CFDs (Contract for Differences), CMTrading provides clients with unique advantages such as powerful leverage, which allows traders with smaller accounts to gain exposure to much larger positions. This translates to higher profit potential; however, it should be noted that leverage also increases your exposure to downside risk.   
While leverage typically adds a certain degree of risk to any investment, CMTrading also offers negative balance protection, thereby guaranteeing that potential losses will never exceed your invested capital.  
If you are interested in learning more about how you can take advantage of price movements in stocks, currency exchange rates, commodities, or cryptocurrencies, you will find that CMTrading's unique offering of innovative services and diverse account types are suitable for both beginner and experienced traders.   
Start trading the financial markets today with an award-winning broker. Join CMTrading, the largest and best-performing broker in South Africa.   
Register here to get started today!