Market winners: Coca-cola, gold, wheat, and more!
Coca-cola gets sweeter, gold sees a recovery… there have been plenty of trading opportunities in January 2022.   
The cryptocurrency market crash, experienced at the start of 2022, continues. While wiping billions from the markets, some coins have seen gained in popularity despite the dip.  
The unwelcome combination of supply issues coupled with high demand has driven up the price of wheat and traders are taking advantage of the momentum.   
Today, we look at some market winners for the third week of January 2022.  
Biggest percentage move weekly:  
Stock: COCA-COLA 0.91%  
Coca-cola, the world's most famous soft drink, has had a great 2020. As a sense of normalcy returns to a recovering world, so too are Coca-cola's traditional revenue streams – movie houses, restaurants, and the hospitality industry. The company is up 1.94% so far in 2022, hitting $61.41. The company, like many, was hit by the turbulent first year of the pandemic. It has shifted into e-commerce though revenues were down on pre-pandemic levels. Investors will have to wait until February to see whether the famous soft-drink maker will top another quarter.  
Commodities: WHEAT 6.17%  
Much like the cotton industry, another commodity affected by supply issues is wheat. The world's most popular farming staple has been gripped by tight supplies of grain and oilseeds, pushing prices to multi-year highs for ingredients such as flour.   Wheat futures in the US showed that net sales and exports surged in January, to breach beyond $744.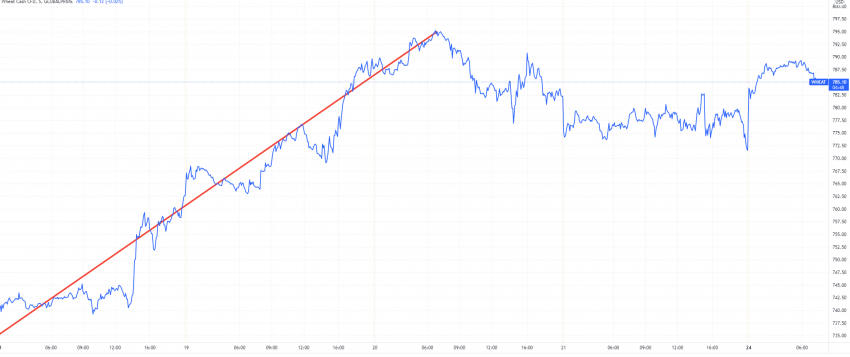 Crypto: ADA/USD 5.32%  
Cardano ADA/USD) has been rallying in the last week, while other cryptos have lost ground. Analysts believe ADA has the potential to grow in 2022 and potentially challenge the world's No.2 crypto, Ethereum.  
Cardano has been outperforming the crypto market significantly in the last week, due to recent improvements made to its platform increasing the cryptos utility. Unfortunately, its rally was short-lived as Cardano joined the rest of the crypto assets in a downward trend.  
Most tradeable instruments weekly:  
XAU/USD
As tensions between Russia and Ukraine grow, so too does the risk that it spills over into global commodity markets, driving prices. Gold made impressive gains, reaching its highest level in two months, near $1,850, on Thursday (Jan 20). Lower bond yields and demand for safe-haven assets have pushed gold prices.  
TRX/USD
TRON (TRX/USD), a blockchain ecosystem, announced via Twitter that the total number of accounts on its network exceeded 70 million. Tron is one of the fastest-growing" public chains" in the world with 2.7 billion transactions. Despite the tumble across the crypto board, TRX has managed to buck the downward trend surging 4.9% on January 17.  
NETFLIX
Streaming giant Netflix has seen its shares drop by as much as 25% on January 21 after the company reported its slowest year of growth since 2015. It represents the worst start to a year for the company in a decade. Netflix shares have now dropped 43% over the last few months, wiping out almost $130 billion in market value. The company hit an all-time high in early November 2021, thanks to the popularity of the Korean show "Squid Game." In January 202, its stock is collapsing, and growth is stalling. This is due in part to huge competition from rivals Disney, Amazon, Apple, and HBO. The company surged in popularity during the onset of the pandemic in 2020 but as life returns to normal in 2022, its growth is declining.