SA market review: Top trends for 2023 
The world's attention was captivated by Russia's invasion of Ukraine in February 2022. The war rattled the commodity markets, especially oil and wheat, and continues into December 2022.  
While global economic eyeballs were mostly glued to the fallout of the Ukraine conflict, far away on the opposite ends of the world it was "business as usual". Especially, South Africa endured a difficult year in the markets.  
The country, still reeling from the global COVID-19 pandemic, like many nations, is dealing with the disastrous economic combination of high inflation and high-interest rates.  
Alon Roslyakov, CMTrading South Africa Office Manager, reflects on the South African economy and shares trends for 2023.  
Become a better trader – join our webinars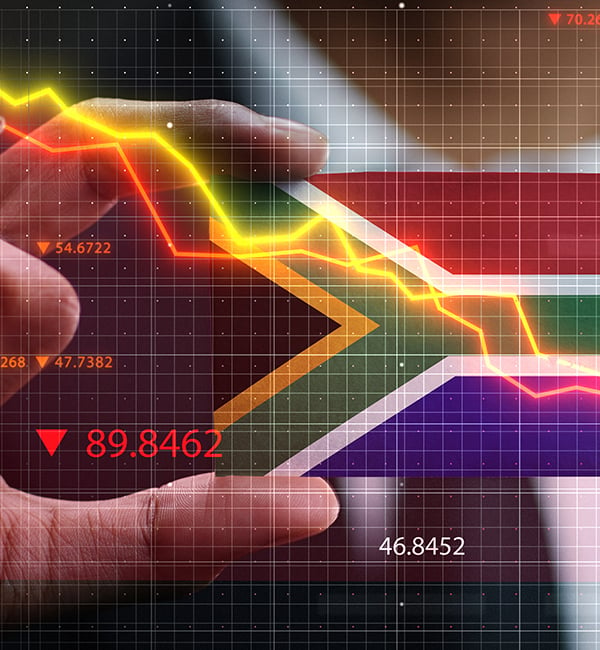 Q: What are some of the issues affecting the SA economy?  
Alon Roslyakov (AR): Corruption is a major issue facing South Africa these days. This issue of corruption is deeply rooted in the past of the country, and it seems that it is here to stay, especially in the political sphere. Over the years there have been notable cases of mismanagement of public funds. Particularly, during the tenure of infamous former President Jacob Zuma, and more recently during the probe of current President Cyril Ramaphosa.   
"Another common issue in South Africa is unemployment. According to the International Monetary fund (IMF), the unemployment rate in South Africa is about 35%. This is a large proportion for a country such as South Africa which holds a population of 60 million people, implying that an approximate number of 20 million inhabitants are unemployed. This issue is often tied to the slow economic growth in the country, shortage of jobs (or well-paying jobs) especially for the young population, the labour demand and supply mismatch, and the lack of specialized training. "  
Energy Crisis  
"Likely the largest struggle that has been a continuous concern and persists to be in South Africa, is the battle with power delivery and energy constraints. Load shedding, which has plagued the country since 2007 has seen its worst year in 2022 with ongoing outages reaching their highest levels yet in 15 years. It is estimated that each stage of load-shedding costs the economy R500 million."  
Q:  What do you think can be done to resolve these problems?  
AR: "First, South Africa needs to address the energy crisis because it is hurting an already wounded economy. Allowing an independent power producer or multiple such businesses into the energy market would be a good start.  
"Second, there is an urgent need to accelerate the creation of labour-intensive employment (in agriculture and tourism). More so, there is a need to revive industrial-based employment which has been in decline. This type of employment will be more inclusive.  
"Third, there are a lot of youth with entrepreneurial ideas. Hence, there is a need for proactive regulations that minimise barriers to small and medium enterprises entering the markets that are largely dominated by bigger firms."  
Q: Are there assets traders should consider locally?  
AR: "CPI (Capitec Bank Holdings Ltd) – If you believe that markets are even vaguely efficient, then over the long term you'd expect a company's share price to follow its earnings per share (EPS) outcomes. That makes EPS growth an attractive quality for any company. Capitec Bank Holdings managed to grow EPS by 17% per year, over three years. Growing EPS and notable levels of insider ownership make this stock incredibly appealing for investors and traders.  
"TGA (Thungela Resources) – Thungela Resources, operating in the coal mining business, saw its shares rise by 270% this year with a forecast dividend yield of 48%. This is on the back of the war in Ukraine as global coal supply disruptions provided a unique opportunity for the firm to capitalize on these events. Forecasts for 2022 put the company shares at a price-to-earnings ratio of two with a 48% dividend yield which sends a clear message to the market that these kinds of profits are simply not sustainable and would be expected to fall drastically, at some point. Coal power is extremely polluting and is expected to be phased out in the future.  
"Given the war in Ukraine as being the catalyst for the unusually high prices of coal, a change in this global geopolitical situation would change this demand/supply issue and hence have a significant impact on TGA. Traders should keep an eye on this highly geared stock as if/when the situation in the Slavic states changes it could present a significant and optimal short position on this stock."  
Q: Why trade the JSE?   
AR: "Every market presents a unique opportunity to make good trades. The JSE Top 40 presents traders with an opportunity to capitalise on the South African markets.   
"The index is a resource-geared market that is highly reactionary to news events. This provides traders a chance to jump on the trend train of large news events."  
Q: Advice for traders for the new year?  
AR: "Looking forward to 2023, tradeable openings will present themselves frequently and with high volatility. News events related to China, inflation, and the war in Ukraine can present good opportunities to enter the market. Traders should be adaptable and diverse in their trading.   
"Going long seems "safer" but in 2023 short trades will present themselves just as much if not more than longs. Sector rotations mean that smart institutional money will be reassigned to alternative instruments, and this may present itself quickly and more prominently. Traders should pay attention to their technical analysis and capture their chances and not lose out on foregone trades.   
"Patience and good risk management will provide all traders with the perfect confluence for profitable market entries. 2023 looks to be an exciting year filled with chances for retail traders to achieve their ultimate goal of becoming successful, profitable market participants and so a thrilling year is to unfold." 
Ready to start trading? Open an account today        
Join CMTrading, the largest and best-performing broker in Africa, and discover more opportunities with an award-winning broker. Register here to get started            
Follow us on Facebook, Instagram, LinkedIn, Twitter, and YouTube