MetaTrader 4 app: How you can start trading the markets on the go 
The markets are always on the move and therefore, traders who aim to take advantage of market opportunities as soon as they appear, need to be able to access their trading account at all times – even when they are away from their trading station at home.   
MetaTrader 4 is the most popular trading platform and the one most utilized by both retail and institutional traders. However, traders with busy schedules can also enjoy the same trading experience on their mobile devices – both Android and iPhone – through the MetaTrader 4 app or CMTrading's SIRIX mobile app.  
The desktop version of the MetaTrader 4 app is normally the one that is recommended for beginner traders, however, the mobile version offers its own unique advantages such as ease of use, responsiveness and portability.  
Beneath the bare-bones interface of the MetaTrader 4 trading platform, there are powerful charting tools, custom indicators and third-party services that have proven vital for the success of millions of traders across the world, but sometimes traders ignore that they can also access their trading account and take advantage of market opportunities anytime and anywhere – as long they don't forget their smartphone at home.  
MetaTrader 4 app download 
While the MetaTrader 4 app is available for free on both Android and iOS devices, it's important to note that financial brokers normally provide clients with a customized version, which includes additional features and benefits that aren't available in the default installation.  
For example, the desktop version of the MetaTrader 4 platform offered by CMTrading also provides clients with the Guardian Angel plugin, which monitors and provides recommendations and advice based on their trading performance. 
CMTrading clients who wish to trade on their phone can choose between two different trading platforms: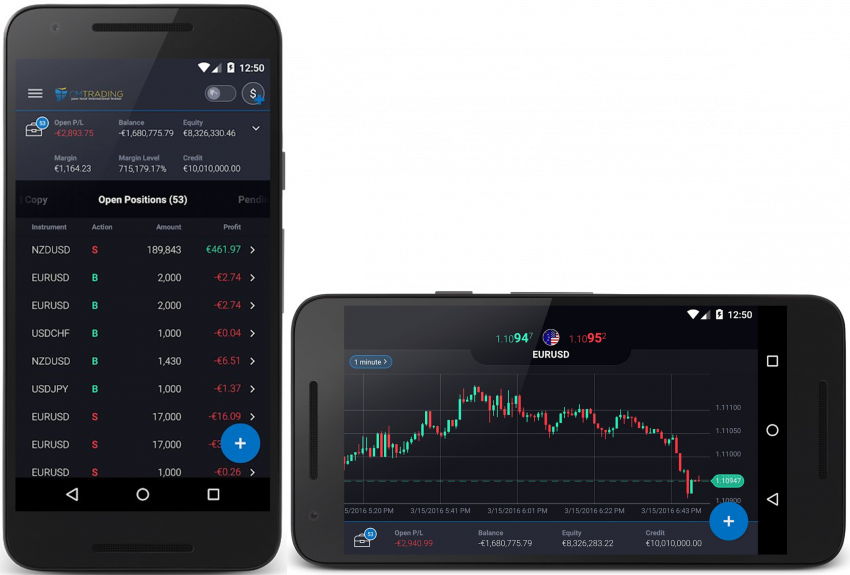 CMTrading SIRIX Mobile app

 
The recommended trading platform for mobile traders is the CMTrading SIRIX Mobile app. The app was designed to provide better performance and enhanced usability on mobile and also offers clients with access to social trading. 
Social trading features available in this app allow clients to follow other experienced traders as well as copy their trades or invest in their trading strategies and enjoy the same results.  
Beginner traders who don't have experience with charting or lack the skills of fundamental and technical analysis can take advantage of this social trading, or copytrading features as they are commonly known to maximize their trading returns while they are still building their skills.  
Another great benefit of social trading is that both beginner and veteran traders can utilize it to diversify their trading portfolio. For example, if the stock or commodities market is enjoying powerful trends with high potential returns, clients who aren't familiar with those asset classes can just copy the trades of one of the expert traders who focuses on these markets exclusively.  
The SIRIX Mobile app by CMTrading combines all the useful features available in the MetaTrader 4 app while still offering a uniquely responsive and user-friendly experience designed exclusively for the trader on the go.  
Prospective clients can also download and open a demo account directly through the SIRIX Mobile app in order to test out their strategy as well as the copytrading features without risk for unlimited time.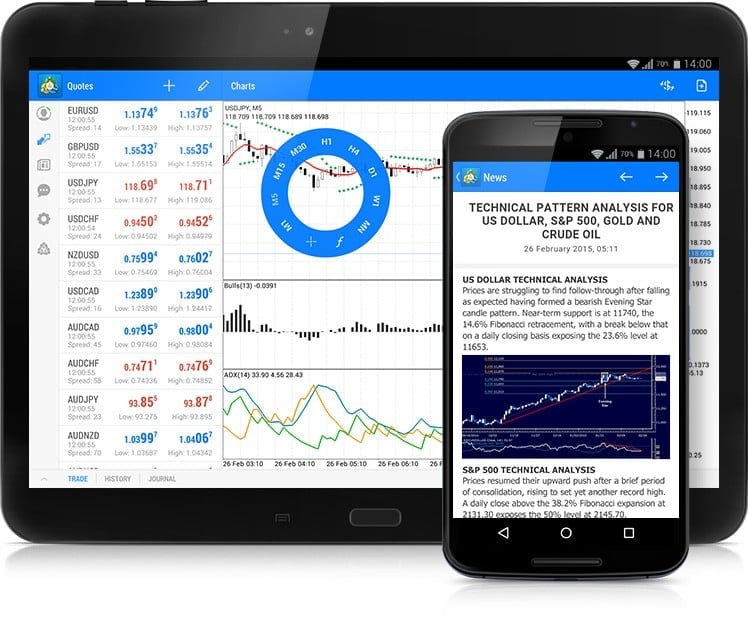 MetaTrader 4 app

 
Traders who want to remain within the MetaTrader 4 ecosystem, or even want to test out which app is better for their needs can search for and download the default MetaTrader 4 app directly from their phone's app store and login with the trading account credentials. 
The MetaTrader 4 app offers an almost identical user interface with that of the desktop version, which makes it easier for clients who are already familiar with the platform transition to trading on mobile.  
As soon as clients log in their account with MetaTrader 4, they can find quotes for the most popular instruments available under CMTrading's offering as well as switch to the Charts view, which offers the same powerful indicators and different timeframes available in the desktop version.  
Discover more opportunities with CMTrading 
CMTrading offers more than 150 tradable assets including the top-performing currency pairs available in the markets. CMTrading clients get access to global brands, exceptional trading conditions and robust safety and security under the auspices of the Financial Sector Conduct Authority (FSCA) in South Africa.     
Being a retail brokerage that specializes in CFDs (Contracts for Difference), CMTrading provides clients with unique advantages such as powerful leverage, which allows traders with smaller accounts to gain exposure to much larger positions. This translates to substantially higher profit potential, however, it should be noted that leverage also increases your exposure to downside risk.     
While leverage typically adds a certain degree of risk to any investment, CMTrading also offers negative balance protection, thereby guaranteeing that potential losses will never exceed your invested capital.      
If you are interested in learning more about how you can take advantage of price movements in currency exchange rates, commodities or cryptocurrencies, you will find that CMTrading's unique offering of innovative services and diverse account types are suitable for both beginner and experienced traders.     
Start trading the financial markets today with an award-winning broker. Join CMTrading, the largest and best-performing broker in South Africa.     
Register here to get started!