Crypto trading: What are Altcoins? 
Cryptocurrencies continued to gain strength with Bitcoin surpassing $30,000 on April 18th. The last time the king of cryptos passed the $30k barrier was in June 2022.  Bitcoin has risen more than 80% since the start of 2023 aided by the banking crisis in March. 
As Bitcoin gains momentum we take a look at the crypto market and its performance. 
Ethereum on the rise 
As for rival crypto Ethereum, the second largest cryptocurrency by market capitalization after Bitcoin, continued its upward trend in April, surpassing the $2000 barrier for the first time in several months.  
The value of Ether has increased by 6.50% to $2113.  
Stay tuned for a special trading offer at the end of this article!
Become a better trader – join our webinars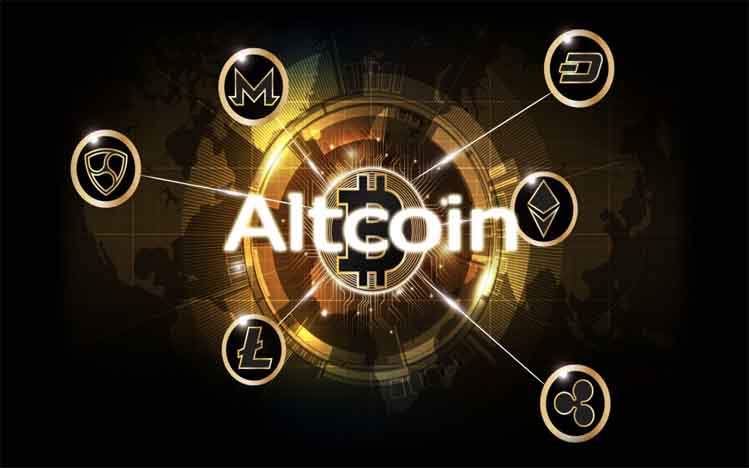 What are Altcoins?  
Many traders will focus on Bitcoin and with its increasing popularity in mainstream culture, it's easy to see why. However, the crypto market has exploded with new Altcoins being added to the list of tradable tokens. What is Altcoin? How do you trade them? What's the difference between Altcoins and Bitcoin? We answer these questions and more, stay tuned!   
Stay up to date with the latest market news   
The term "Altcoin" comprises all cryptocurrencies except Bitcoin. Many Altcoins share the same open-source technology used to create Bitcoin and share many basic characteristics. There are however key differences like how certain tokens are mined, traded, and exchanged which traders need to be aware of. 
 
For example, Ethereum was not created to be digital "money", but rather a decentralized computing platform. The popular Doge Coin coin also started as a joke based on the "Shiba Inu" meme but is now being used as a tipping system on social media.   
CMTrading strengthens its global leadership and shines with 10 awards so far in 2023  
 How do altcoins work?   
Altcoin altcoins do not rely on banks, financial institutions, or any type of intermediary to be transferred from person to person. Rather, these digital currencies rely on blockchain technology, which is a digital ledger for cryptocurrency transactions. Transaction details are stored in "blocks" that must be verified to ensure the legitimacy of transactions. Once the "block" is accepted through the consensus algorithm, it becomes a permanent part of the distributed ledger.  
Since blockchain is stored in computers and servers around the world, it would be nearly impossible to penetrate such a large network. That's why blockchain technology is considered highly secure. This does not necessarily mean that investing in altcoins is 100% safe as the recent collapse of trading exchange FTX shows.  
Earnings Season: Trade Netflix Shares, Tesla, and more!  
What are the reasons for the emergence of altcoins for Bitcoin?  
Better protection and privacy for financial transactions 

 

Some altcoins were created for special purposes and specific transactions 

 

Eliminate some of Bitcoin

's drawbacks 

 such as slow transaction confirmation 

 

Adopting different technologies in currency development instead of blockchain technologies 

 

Provide better solutions in terms of transaction fees, due to higher transaction fees 

 

Overcoming the disadvantage of suspicious currency activity due to its use on the dark web 

 

Using different proof-of-work methods for faster confirmation 

 

Some altcoins have been created for official use and are supported by some banks such as Ripple  

 

Using a different strategy in distributing currency to users instead of mining currency 

 
Want to learn more about the markets? Check out our latest podcast!        
 How to get Altcoins?  
Like Bitcoin, altcoins can act as a currency and a tradable asset. The easiest way to get them is to purchase tokens through an online exchange. There are currently many brokerage companies that can buy altcoins through them, but always make sure to choose a reliable and licensed broker such as CMTrading to buy and trade cryptocurrencies.  
Altcoin prices are set by buyers and sellers who deal on cryptocurrency exchanges. 
 
It's worth noting that cryptocurrency prices can be extremely volatile.  
You will need to download a digital wallet to your computer or smartphone to store cryptocurrencies. When choosing a wallet, pay attention to the cryptocurrencies you support because some support more cryptocurrencies than others.  
How ChatGPT and AI Will Impact Traders  
Should you trade alternative cryptocurrencies?  
The high volatility in the prices of altcoins is a strong motivation to trade them, given the large profits that can be made. Before investing your wealth in altcoins, you need to learn some privacy tips and how to store your cryptocurrency safely. If you lose your cryptocurrency from your wallet, it will be lost forever. Unlike traditional banking practices, cryptocurrency does not have the same regulations and financial institutions governing the market as traditional trading (i.e. SEC).  
This means that your cryptocurrency will always be at risk of theft from hackers or even from user error. The simplest thing you can do is store all your passwords and account information on a printed file. This may seem like a very old-school way of securing information but in the digital world, it is never smart to store all your passwords and account information online. An online wallet or exchange wallet is the most vulnerable to hacker attacks.  
Next, allocate a small percentage of your portfolio to cryptocurrencies, and you'll have to decide in advance how much of your wallet you want to allocate to the cryptocurrency. Hence choose your altcoin. Choose a leading and trusted platform to buy cryptocurrencies, such as the award-winning CMTrading platform. And then store your cryptocurrency safely.   
 Keep in mind that altcoins are a good source of traditional portfolio diversification, but this diversification must be handled with great care. 
Read more CM Trading articles: 
Earnings Season: Trade Netflix Shares, Tesla and more! 
Trade Big Bank Stocks: JPMorgan, Wells Fargo, and more! 
CM Trading strengthens its global leadership and shines with 10 awards so far in 2023 
CM Trading enters the world of the round with the latest football partnership 
Bitcoin Rises as Global Banking Crisis Breaks Out 
Ready to start trading? Open an account today 
Discover more opportunities with an award-winning broker. Join CM Trading today, the fastest growing broker in the Middle East. 
Share your opinions and follow us on Instagram, Facebook,Youtube and Twitter 
Special offer 
Take advantage of market movements with our special April offer and start trading today!  
How to get your bonus:    
1 Deposit $250 – get a 100% back  
2 Use promo code CMT250 
3 Trade with our bonus 
T&C Apply | Min. deposit $250 | Max reward $250 | New clients | Promo code: CMT250